Question of the Week
May 24, 2016
The Many Faces of Heroin – Could You Tell the Difference?
Case scenario:   EMS scene call "…unresponsive individual found with multiple 'pills' stuffed up the nose…look like Percocet RX "
Could you tell the difference?
A.                                                    B.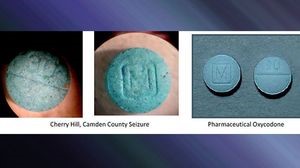 Heroin has made an unsettling resurgence over the last several years.  The opiate has many faces, the most recent phenomenon being heroin "pills", or often known as "Percs".  As the name implies: Heroin disguised as Percocet RX or oxycodone. 
The pill comes complete with all of the trimmings:  official stamp, color.  This form is more profitable for "dealers", for example 80 mg of oxycodone can sell from $80-$100. One hit of heroin may sell for $20.00 (ONDCP, 2015). Additionally, there is no other paraphernalia (e.g. needles, spoons) required, although the pills can be liquefied for injection. Many individuals purchase what is thought to be black-market Percocet Rx, and are actually receiving heroin.
This is an extremely disturbing trend.  There are many opioid addicted individuals in the country.  Statistics from the TN Dept. of Health revealed a drastic increase in the number of heroin related deaths:  147 in 2009 to 700 in 2014.  The 2015 statistics are not yet available, however, according to the health department and the CDC, that number is expected to be higher when including all forms of opioids.  State health department personnel have indicated that the actual numbers are difficulty to assess, as heroin and other pain killers are placed in the same category.
Heroin (C21, H 23, NO5)

Common side effects:  bradycardia, hypotension, miosis, respiratory depression, ALI, death from complications of side effects (Manton, 2014).
Treatment: 
            NALOXONE
Naloxone is the specific antidote.  Recommendations for children and adults from the Tennessee Poison Center are as follows:

Bolus dose of 10 mg.  If response, follow with infusion starting at 5mg/hr, titrating down 1 mg/hr as patient's condition improves.

 If patient was IV heroin user, the initial bolus dose required for reversal is likely lower than 10 mg, the subsequent infusion would be ½ of the bolus e.g. 6 mg bolus/3mg/hr infusion.    
            CLINICAL ALERTS!
If you have a heroin addicted individual, high- dose naloxone can produce acute, life-threatening withdrawal.

If you have a presumed IV heroin overdose with needle tracks on the extremities,
 administer 2 mg to avoid precipitating acute withdrawal.
If the patient is opiate addicted (but not to IV heroin), withdrawal symptoms may be precipitated by naloxone.  Symptoms are short-lived and not life threatening.

The duration of the opiate may often exceed the duration of naloxone,
therefore, patients must be observed for a minimum of 1 hour after naloxone is
discontinued.
Implications for Health Care providers
The primary implications for HCP's is early identification of risk factors and expanding awareness and education regarding early administration of naloxone and supportive care.
Answer to images
 Heroin pill     B.    Pharmaceutical oxycodone
References
American Academy of Pediatrics ( 2015)

Manton, A.( 2014).  The Heroin Epidemic. Journal of Emergency Nursing, 40(6), 526-527.

Micromedex ( 2015).  Retrieved from

https://www.micromedexsolutions.com

ONDCP ( 2015).  Heroin Task Force.  Retrieved from

https://www.whitehouse.gov/ondcp
This question prepared by: Jennifer C. Anderson, MSN, RN, CCRN, CPNP, CSPI (Certified Specialist in Poison Information)  Tennessee Poison Center
I am interested in any questions you would like answered in the Question of the Week  Please email me with any suggestion at donna.seger@vanderbilt.edu
Donna Seger, MD
Medical Director
Tennessee Poison Center
Poison Help Hotline: 1-800-222-1222