Link: Hazardous Packaging Error
The Institute for Safe Medication Practices (ISMP) is aware of an extremely hazardous packaging error involving certain Cisatracurium products from Meitheal Pharmaceuticals. While the outer carton identifies the vials inside as Cisatracurium, the vials contained in the carton are labeled phenylephrine injection. A photograph appears below. The vials actually contain Cisatracurium and have caps appropriate for a paralyzing agent. However, this cap warning may not be noticed, since the vial is labeled phenylephrine.
Due to the nature of this situation and the potential for death if these vials are used as phenylephrine injection in patients who are not intubated and ventilated, we urge facilities to immediately examine any and all cartons of Cisatracurium from Meitheal Pharmaceuticals for this serious packaging error. The possibility that any of these vials were actually distributed should also be considered. ISMP has confirmed that both the FDA and the manufacturer are aware of this situation and that a recall is imminent.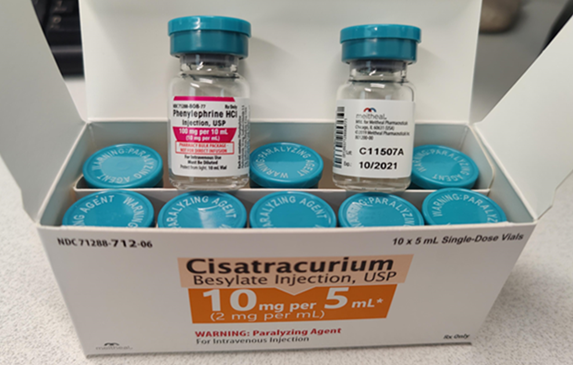 Carton labeled properly as Cisatracurium, but the vials within are mislabeled as phenylephrine but actually contain Cisatracurium.
Prepared by American Association of Poison Control Centers
Cisatracurium is a non-depolarizing neuromuscular blocking agent (muscle relaxant with a rapid onset and short duration of action.)  It is similar to Rocuronium but has a slower onset of action( Roc - 90 seconds; Cisatracurium-2-3 minutes).  The potential with this mislabeling is that a paralytic agent may be unintentionally administered. ds
I am interested in any questions you would like answered in the Question of the Week.  Please email me with any suggestion at donna.seger@vumc.org.
Donna Seger, MD
Executive Director
Tennessee Poison Center
Poison Help Hotline: 1-800-222-1222