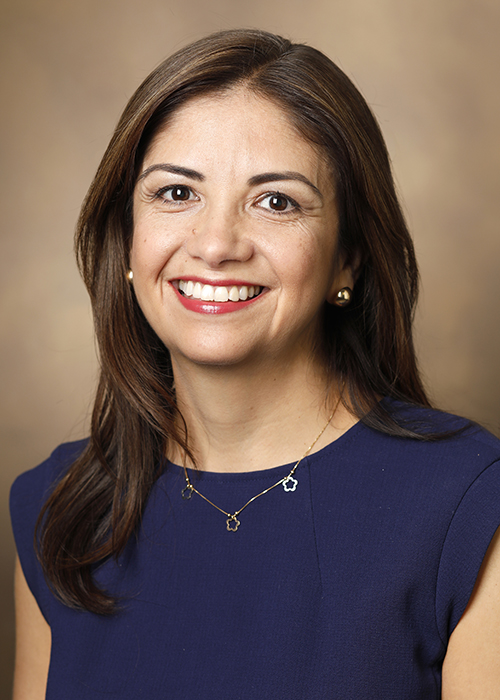 Monica Lopez, MD, MS, FACS, FAAP
Associate Professor of Pediatric Surgery
Vice Chair for Surgical Quality and Evidence-based Programs
Department of Pediatric Surgery
Medical Director, Surgical Outcomes Center for Kids (SOCKs)
Monroe Carell Jr. Children's Hospital at Vanderbilt
Dr. Lopez joined our surgical faculty in the Department of Pediatric Surgery as an Associate Professor of Pediatric Surgery. Dr. Lopez comes to Vanderbilt from her previous position as Associate Professor of Surgery and Pediatrics, Baylor College of Medicine, Houston, TX. The major focus of Dr. Lopez's research and clinical work is developing and implementing evidence-based clinical standards optimizing pediatric surgery. Her specific clinical emphasis includes thyroid and endocrine surgery, neonatal surgery, anorectal malformations, inflammatory bowel disease, and surgery for diseases of the esophagus. 
Research
In her research pursuits, Dr. Lopez has used her experience in building an institutional health analytics platform to monitor appendectomy outcomes resulting in multiple quality improvement initiatives generating value to pediatric appendicitis care. Based on this work, her team received the 2015 Healthcare Informatics Annual Innovators Award for effectively employing information technology to make a difference within the organization and in the industry at large. Dr. Lopez is interested in the application of novel cost accounting methodologies, such as Time-Driven Activity Based Costing, and investigating alternative payment models in pediatric surgery. She remains committed to studying the adoption of value-based strategies that reward high quality surgical care.
Among her recent publications in peer reviewed journals are: Effectiveness of a Clinical Pathway for Pediatric Complex Appendicitis based on Antibiotic Stewardship Principles, Journal of Pediatric Surgery; Diversity, Equity, and Inclusion: A Strategic Priority for the American Pediatric Surgical Association, Journal of Pediatric Surgery; Favorable Postoperative Outcomes for Children with COVID-19 Infection Undergoing Surgical Intervention: Experience at a Free-Standing Children's Hospital, Journal of Pediatric Surgery.
Memberships, Awards and Honors
Dr. Lopez holds membership in the American Pediatric Surgery Association, Quality and Safety Committee as Vice Chair. She is a Consultant to the Pediatric Surgery Board of the American Board of Surgery, and is on the Executive Committee and Implementation Committee of the Pediatric Surgery Quality Collaborative. Dr. Lopez is a member of the Society of University Surgeons, and is a certified member of the American Board of Surgery, General Surgery and the American Board of Surgery, Pediatric Surgery. She was awarded the 2015 Fulbright & Jaworski LLP Faculty Excellence Award for Teaching and Evaluation, in recognition of exemplary educational contributions to Baylor College of Medicine. In addition, she received the 2016 Rising Star Clinician Award for clinical excellence and leadership. Dr. Lopez has participated as site co-investigator in multicenter research grants.
Education
Dr. Lopez received a Bachelor of Science from the University of California, Los Angeles, CA and earned her MD at Yale University School of Medicine, New Haven CT.  She also completed a Research Fellowship at Howard Hughes Medical Institute at Yale. Dr. Lopez completed her internship and residency at Albert Einstein College of Medicine, Montefiore Medical Center, Bronx, NY. She completed a clinical fellowship at Baylor College of Medicine, Texas Children's Hospital, Houston, TX. She also earned an MS from the University of Texas Health Science Center at Houston, McGovern Medical School, Houston, TX. 
Contact
Vanderbilt Department of Pediatric Surgery
2200 Children's Way 
Doctor's Office Tower, Suite 7100
Monroe Carell Jr. Children's Hospital at Vanderbilt 
Nashville, TN 37232
Office: (615) 936-1057
Fax: (615) 936-1046
Patients
Pediatric Surgery Clinic
2200 Children's Way 
Doctor's Office Tower, Suite 7100
Monroe Carell Jr. Children's Hospital at Vanderbilt 
Nashville TN 37232
Fax: (615) 936-1046
Appointments: (615) 936-1050
WEBSITE: Department of Pediatric Surgery
WEBSITE: General & Thoracic Pediatric Surgery