Disclosure: Financial relationships must be disclosed to learners before an accredited CE activity begins. Information is disclosed on the Disclosure of Financial Relationship form housed within CloudCME.
Ineligible Company: Companies that are considered not to be eligible to participate in accredited CE by ACCME and the ANCC have as their primary business products, marketing, selling, re-selling, or distributing healthcare products used by or on patients.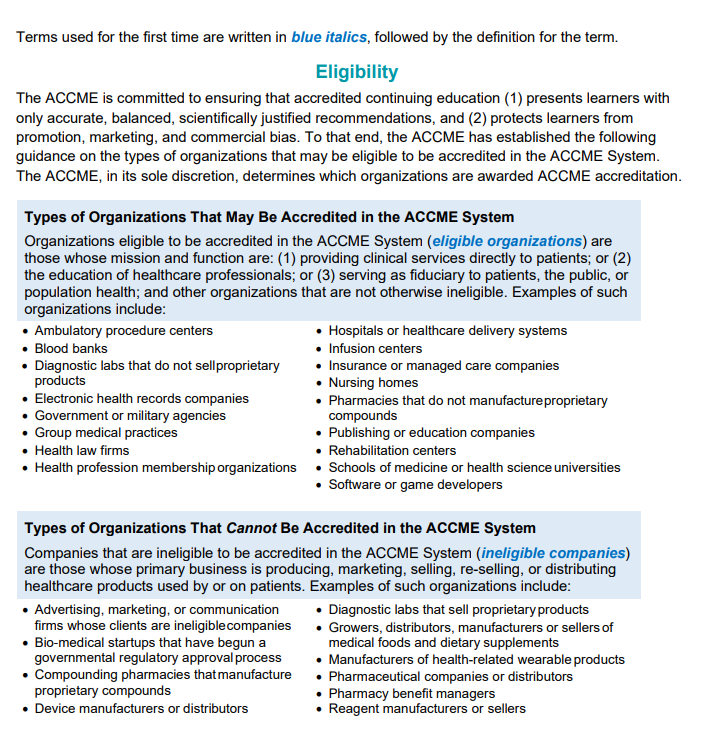 Financial Relationships: An individual has a financial relationship if (1) the educational content of a CE activity in which they have a role is related to the business lines or products of an ineligible company; (2) they will receive and/or have received something of value from an ineligible company; and (3) have the opportunity to influence the content of a CE activity.

Financial Relationship Examples: Examples include employees of an ineligible company, individuals who receive funds from ineligible companies in their roles as researcher, consultant, advisor, speaker, and independent contractor (including contracted research) with ineligible companies; as well as individuals who receive royalties or patent beneficiary from inventions that become products of ineligible companies, executives of ineligible companies, and ownership interest in an eligible company. Individual stocks and stock options are considered a financial relationship; mutual funds are not. Research funding from ineligible companies is considered a financial relationship for the principal or named investigator even if that individual's institution receives the research grant and manages the funds.
Review of presentations: The presentations of each speaker who discloses one or more financial relationships must submit, at the request of the Office of Continuous Professional Development, their presentation for review 10 business days prior to the starting date of an accredited CE activity. If the presentation is not submitted by the 10th business day, that speaker's allotted time on the agenda for the accredited CE activity will not be eligible for CME or CNE credit.