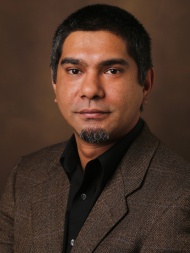 Ayush Giri, MS, PhD
Obstetrics and Gynecology
Division: Quantitative Sciences
Research Interests: Women's Health, Genetic Epidemiology, Cardiometabolic Health, Genomics, Electronic Health Records, Study Design, Health Disparities, Sex as a Biologic Variable
Education
MS, University of Massachusetts, Amherst, 2011
PhD, Vanderbilt University, 2015
Biography
Dr. Ayush Giri is an Assistant Professor in the Division of Quantitative Sciences at the Department of Obstetrics and Gynecology. He holds a secondary appointment at the Department of Medicine and holds memberships in the Division of Epidemiology, Women's Health Research Center, Vanderbilt Genetics Institute and the Institute for Medicine and Public Health. He joined Vanderbilt University as a graduate student in 2011 where he trained as an epidemiologist, with a methodological focus on genetic epidemiology and content focus on women's health. He started as a faculty member in Obstetrics and Gynecology in 2017 and is a scholar in the Building Interdisciplinary Careers in Women's Health (BIRCWH) program.
Research Information
His research interests focus on understanding how non-modifiable risk factors such as genetic predisposition, race, and genetic ancestry, and modifiable risk factors such as obesity influence human health and disease etiology, especially as it relates to women's health. Topics of active investigation in women's health include gestational diabetes, gestational hypertension, and pelvic organ prolapse.
His research uses data from traditional cohort studies and electronic health records and utilizes methods including epidemiologic study design, genome-wide association study, admixture mapping, statistical modeling, gene-environment interactions, genetic risk scores, transcriptome-wide association study and phenome-wide association study. He is interested in developing and evaluating approaches that better incorporate sex as a biologic variable in epidemiologic and genetic investigations of traits and phenotypes that are differentially distributed in men and women.
Finally, he actively participates in several genetic consortia and is an active investigator in the Million Veteran Program where he leads analysis of large-scale genetic data in topics relating to blood pressure, kidney function and diabetic complications.