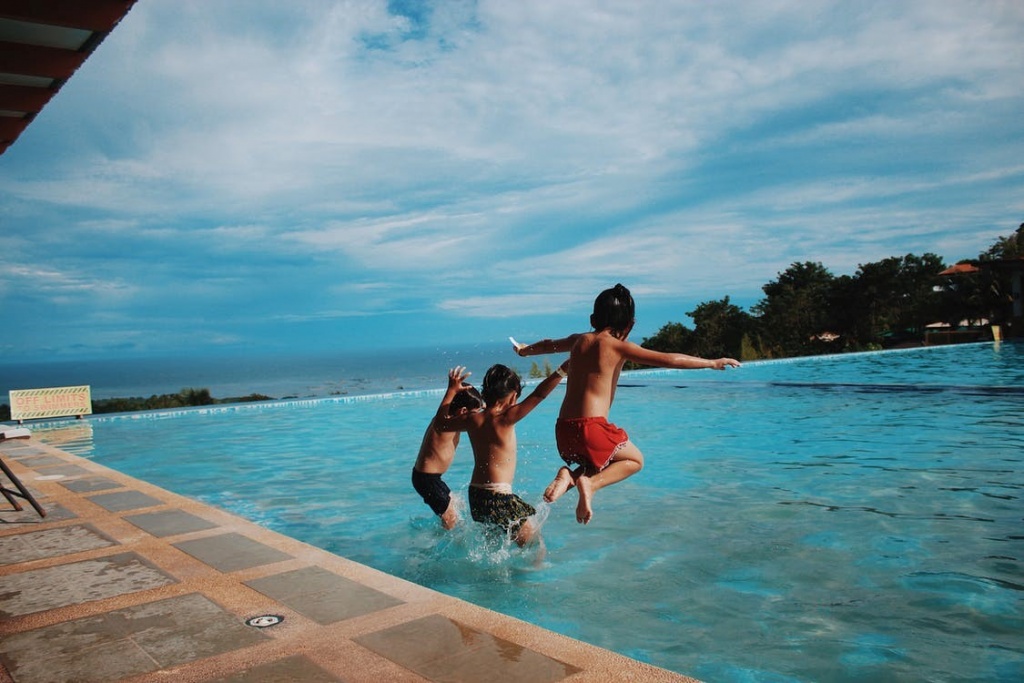 It is beginning to look a lot like Summer around this time of year. Many are prepared to head to the beach, pool, or lake, especially for this upcoming Memorial Day Weekend. It is important to know some water safety tips before heading out for a day on the water. In the US, an average of 3500- 4000 people drown per year [1]. That is an average of 10 drownings per day. Drowning is also the leading cause of unintentional injury related death for children ages 1-4 [1]. Drowning happens very quickly and quietly. For children younger than 5, 87% of drowning fatalities happen in pools or hot tubs [2]. The scary part is most of these drownings take place in pools owned by family, friends, or relatives
Follow the tips below to help keep your loved ones safe in the pool this summer [1]:
Teach your child to swim - It can reduce the risk of drowning by 88% for children ages 1-4

Use a four-sided isolation fence for backyard swimming pools with latching gates. Fences should separate the house and play area from pool

Closely supervise children around any water, even bathtubs. Bathtubs are second leading location where young children drown [2].

Avoid distractions when supervising children such as reading, talking, or using a cell phone.

Enforce the following rules with your children [2]

Only swim when supervised by a water watcher

To ask for permission to go near water

Stay away from drains and openings that cause suction.

Install a secondary barrier such as lockable covers or alarms/locks on doors that have direct access to the pool area that children cannot reach

Know CPR and how to call for emergency help

Have your children use US Coast Guard approved floatation devices like a life jacket
National Safe Boating Week is May 21st-27th. Chances are if you are going to be around water you may also be on a boat. There are additional safety measures that need to take place while being on a boat. In 2020, 77% of deaths occurred on boats where the operator had no boating safety instruction [3].
Follow these safety tips when out on a boat this summer [4]:
Wear a US Coast Guard approved life jacket. All boats are to be equipped with one wearable personal flotation device for each person on board.

Do not drink and drive a boat

Check the weather forecasts

Learn about carbon monoxide to avoid poisoning.

File a float plan

Take a boating safety course

Wear your US Coast Guard approved life jackets, in or around bodies of water, even if you know how to swim. Even wear it in the pool.
One of the single most important things you can do is wear a US Coast Guard approved life jacket when around water or on a boat. Of the boating fatalities that occurred in 2020 75% were drownings. Of those, 86% were reported not wear a life jacket [3]. If you unintentionally fall in the water, A US Coast Guard approved life jacket will help keep your head above water allowing you to breathe and make it easier for you to be rescued once help arrives.
Summer means many children will be out at the pool, lake, or ocean. Take extra steps to keep your children safe this summer.
[1] https://www.stopdrowningnow.org/drowning-statistics/
[2] https://www.redcross.org/get-help/how-to-prepare-for-emergencies/types-of-emergencies/water-safety/drowning-prevention-and-facts.html
[3] https://safeboatingcampaign.com/get-the-facts/
[4] https://www.nsc.org/home-safety/tools-resources/seasonal-safety/summer/boating