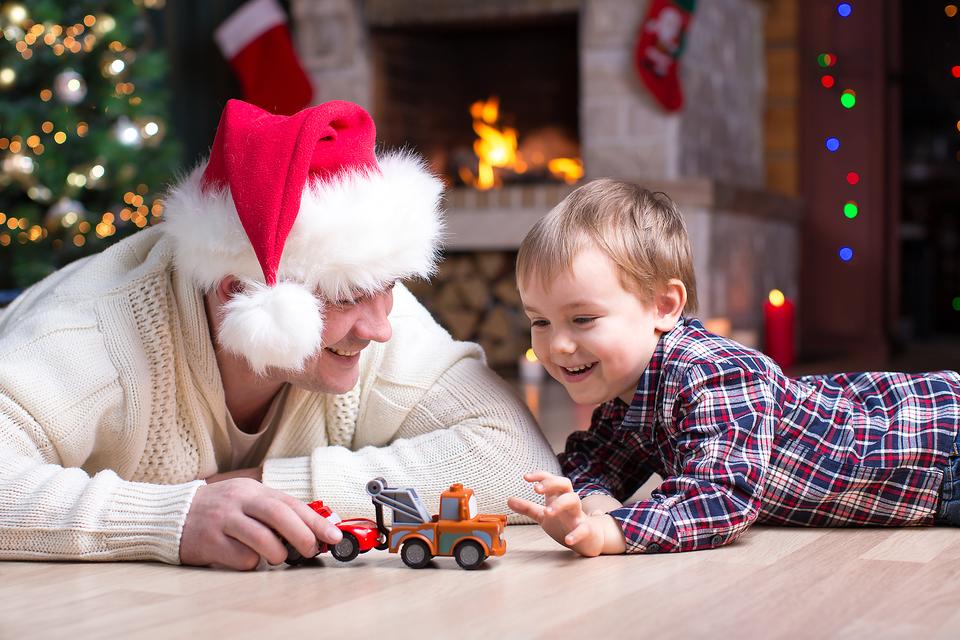 As the holiday season approaches, the U.S. Consumer Product Safety Commission (CPSC) urges gift-givers to keep safety in mind when choosing toys for young children. According to the U.S Consumer Product Safety Commission, an estimated 224,200 toy-related injuries were treated in U.S. hospital emergency departments in 2019.1 The American Academy of Ophthalmology urges parents to avoid buying toys that can cause serious eye injuries, even blindness. To keep the season safe, here's what you need to know:
Always purchase age appropriate toys.
It is important to understand that toys are designed to be used based on a child's age. Be sure that younger children do not play with toys designed for older children as this can become a choking hazard. You can check the label and the instructions of the toy to determine the age appropriateness.  A potential choking hazard is defined as anything that fits completely into a test cylinder slightly smaller than a toilet-paper tube, which approximates the size of a fully expanded throat of a child.2 As the holidays are near, we are encouraging all parents to revisit some of the areas in your home where small items and toys may be hiding such as underneath furniture and between the cushions of the couch. If your family has children of various ages, it is important to make sure that your smaller children do not have access to toys designed for older children.
Safety Labels and Guidelines for toys:
The US Consumer Product Safety Commission created the guidelines that toy makers have to follow when determining what is age appropriate for children. The CPSC now requires that toy makers label toys that are designed for children ages 3 to 6. The labels must specifically state that the toy is unsafe for children under age 3 and the reason for the warning. Parents are urged to become label readers. Look for and heed age recommendations, such as "Not recommended for children under three." Look for other safety labels including: "Flame retardant/Flame resistant" on fabric products and "Washable/hygienic materials" on stuffed toys and dolls.2
Avoid Toys with Unsafe Lead Levels
According to the 2019 US Consumer Product Safety Commission report non-motorized scooters were associated with the most estimated injuries for children 12 years of age or younger and children 14 years of age or younger. Protect children from exposure to lead in metal and plastic toys, especially imported toys, antique toys, and toy jewelry. Childhood lead poisoning is 100% preventable.4  Young children tend to put their hands, toys, or other objects―which may be made of lead or contaminated with lead or lead dust―into their mouths.4. Be cautious of toys and decorations with unsafe lead levels. This can include artificial Christmas trees, lights, and magnets. Lead may be found in the paint, metal, and plastic parts of some toys and toy jewelry, particularly those made in other countries, as well as antique toys and collectibles. Fidget spinners have been identified as potentially having high levels of lead. They could contain unsafe levels of certain substances that the CPSC says kids should not be exposed to.2 If you think your child has been exposed to a toy containing high levels of lead, or if your child has a recalled toy, take away the toy immediately and contact your child's health care provider.
It is important to purchase the appropriate accessories for wheeled toys.
When selecting a wheeled toy, it is important to provide a helmet as well. This can include ATVs, bicycles, and scooters. According to the CPSC's report, riding toys—specifically non-motorized scooters—were the category associated with the most injuries and contributed to almost half of toy-related deaths. Be sure to buy both the appropriate size and type of helmet for both the child and the activity. Helmets ae not a one stop shop designed to protect children from all activities.
Consider magnets and battery-operated toys as a potential risk.
The law states that toy battery compartments can only be opened with a tool.  If a toy's battery compartment is able to be opened without a tool, report this violation to the CPSC and secure non-toy battery compartments like TV remotes with tape. Be careful with magnets. If a toy has magnet pieces be careful. High-powered magnet sets are a safety risk. Children can swallow loose magnets, causing serious intestinal injuries.
Check the CPSC's toy recall website here to avoid buying any recalled products. Also, think twice before purchasing toys with sharp, protruding, or projectile parts. For more safety tips on ways to keep your family safe, visit our website here .
Source: