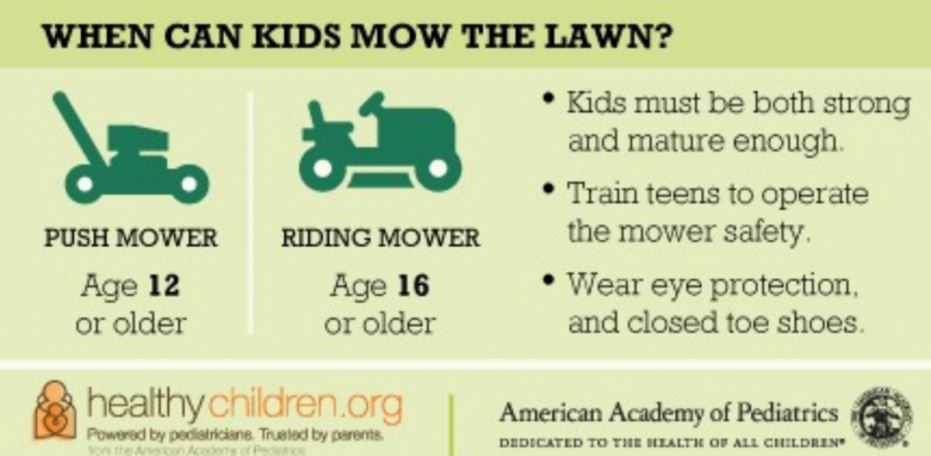 As the spring season begins, it might be time to bring out your lawn mowers and manage your property. Although this seems like an adult only activity, it is important to consider your children when adjusting your routine to focus on important safety practices. If your child is over 12 years of age, they might be mature enough to take on the task themselves. We have outlined the appropriate safety measures below if you have children who are near the lawn mower or who are ready to learn how to help!
Keeping children safe around lawn mowers [2]:
Keep children under 6 years old indoors while mowing

Be aware of where children are and never allow them in the area being worked on

Never allow passengers (including small children) to ride as a passenger on the mower
How to tell if your child is ready to start mowing [1]:
Your child should be at least 12 years old to operate a walk behind power or hand mower and 16 years old to operate a riding mower

Spend time teaching and showing them exactly how to use your specific equipment

Do not let your child mow alone until you are confident they can complete the task safely
What to teach your child before they mow [1]:
Go through the operator's manual and any instructions on the mower itself with your child

All parts of the mower should be checked each time before the mower is used

All operators should wear sturdy closed toe shoes, safety glasses, and hearing protection. Loose fitting clothing that may get caught in the mower should be avoided

Clear the area of twigs, rocks, and tors before mowing

Do not operate in bad weather or on wet grass

The mower should be shut off and given time to cool before gasoline is added.
References:
[1] https://www.healthychildren.org/English/safety-prevention/at-home/Pages/Lawnmower-Safety.aspx