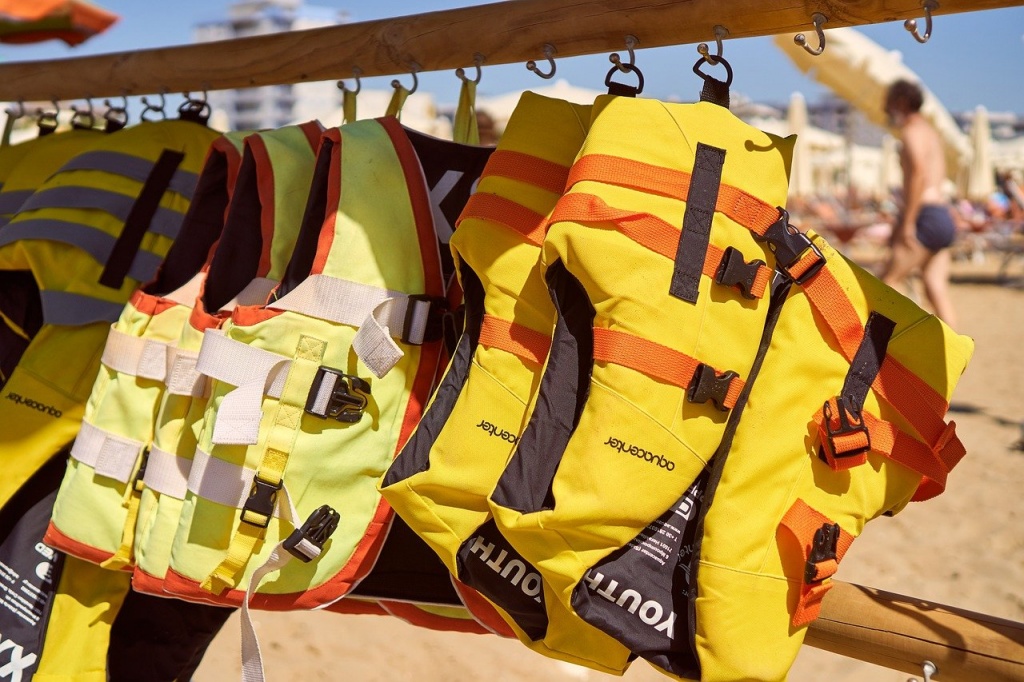 School's out for the summer, and many families like to spend this time at the pool, the lake, or the beach. When swimming, boating, playing water sports, or performing any other water activity, it is important to keep in mind some important safety tips regarding personal flotation devices, or PFDs. PFDs, better known as life jackets, are devices that help the wearer stay afloat and above water and can help prevent drowning. 
There are several types of PFDs, with Type II and Type III recommended for children to wear. Type II provides extra head support for children who need additional help staying above water. Type III is recommended for children who know how to swim and can keep their head above water. Children should always wear one of these two life jackets if they are in or around water. Statistics from the U.S. Coast Guard show that nearly 85% of drowning victims are not wearing a life jacket. Wearing a life jacket can help keep your children safe.
Here are some additional tips regarding PFD and life jacket safety:
Swim floaties, tubes, and pool noodles do NOT prevent drowning and should not be used in place of a life jacket. These devices can be used in addition to life jackets but should never be used alone.
Always check to make sure your life jacket is U.S. Coast Guard approved and appropriate for the activity you are doing. This information can be found on a label inside the jacket.
Life jackets for children come in three different sizes based on weight: Infant (8-30 pounds), Child (30-50 pounds), and Youth (50-90 pounds). Check to make sure your child is wearing the right size. 
To see if a life jacket fits, after tightening all straps and zippers for a snug fit, pull up on the shoulders of the jacket. If the life jacket comes up to the child's chin or ears, it may be too big or not fastened tight enough. 
There are two types of life jackets- inherently buoyant (made of foam) and inflatable. Children's life jackets should always be inherently buoyant. Inflatable life jackets are not recommended for children under the age of 16. 
Spending time together at the pool or beach should be a fun summertime activity for families, but always be careful and follow all safety precautions to keep you and your family safe. 
Sources: 
3. USBR.gov