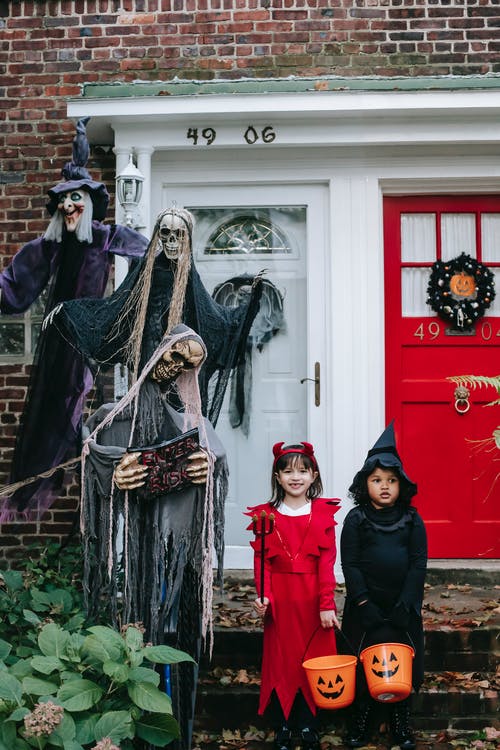 Even on the spookiest of holidays we must keep our little trick-or-treaters safe. It's frightening to think about, but on average, children are twice as likely to be hit by a car and killed on Halloween than on any other day of the year(2). Most neighborhoods aren't filled with the children out and about after dark, except for on Halloween, and it can be very dangerous for children. In fact, the risk of pedestrian mortality is 43% higher on Halloween than on any other night of the year(4).
Here are some Halloween safety tips to help keep kids safe while they trick-or-treat(1):
Carry glow sticks or flashlights, use reflective tape or stickers, and wear light colors to help make kids more visible to drivers.

Remind children to cross the street at corners or crosswalks where drivers are more likely to spot them.

When possible, choose face paint over masks to avoid limiting the child's vision so they can better look out for motorists.

When you choose a costume, make sure it's the right size to prevent trips and falls.
Drivers, if you must be on the road on Halloween evening(1):
Slow down when you're driving and stay alert! Kids are excited on Halloween and may dart unexpectedly into the street.

Turn on your headlights earlier in the day to help spot children further away.

Be extra cautious when backing out of driveways or alleys.
Parents, before you go out(3):
Talk to your children about how to stay safe on Halloween and go with young children under age twelve.

Remind them not to go off alone, and to never go into someone's home when trick-or-treating.

Remind your children never to go up to or into a stranger's car to get a candy or treat. Only trick-or-treat from house to house.
Don't forget to count your candy! This is a great opportunity to go through your children's candy with them. Remember to throw out anything loose, unwrapped, or homemade(3)! You can't be sure those items are safe. A dark costume and scary mask on a spooky Halloween night might be all the frightening fun our kids love, but parents must take the time to make sure all their children's costumes are easily visible for safety and should discuss pedestrian safety before they head out to trick-or-treat. Halloween can be safe AND fun if parents use these safety tips to guide their family's trick-or-treating fun.
For more safety tips, visit the VUMC Injury Prevention Page here.
Happy Halloween!
Source 1: Halloween - National Safety Council (nsc.org)
Source 2: Halloween Safety | Safe Kids Worldwide
Source 3: Playing It Safe on Halloween (for Kids) - Main Line Health
Source 4: Smart Road Tips for Halloween Safety - Consumer Reports