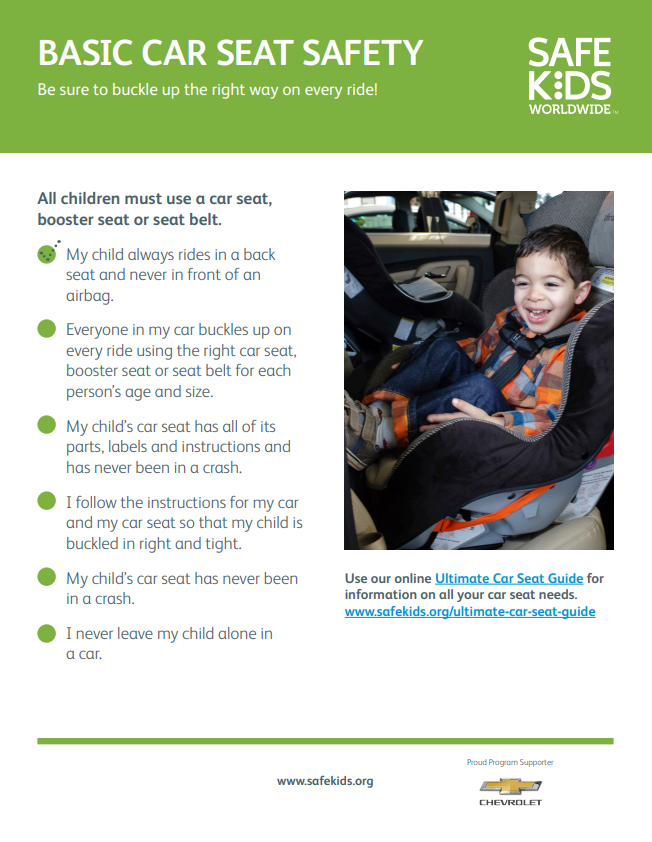 Although traveling any length of time in a car can be hard for children, consistently buckling up during each ride is always important. Safe Kids Worldwide reports one in four parents have driven with their child unrestrained. The top reasons for this include not driving far, traveling overnight and being in a rush. To help combat this problem, the organization has created a list for parents and other caregivers to ensure safer rides for children.
My child always rides in the back seat and never in front of an airbag.
Children should remain in the back seat until the age of 13. 
Everyone in my car buckles up on every ride using the right car seat, booster seat or seat belt.
Select your safety and booster seats by answering these questions:
What fits my vehicle?
What fits my child?
Which seat will I install correctly every time?
My child's car seat has all of its parts, labels, and instructions and has never been in a crash.
Having these all of these items helps ensure your safety and booster seats will perform correctly in a crash. Labels are extremely important as they provide information on the seat's height and weight limits, the manufacture's name, expiration dates, and the proper belt path. Although it may seem odd to think a safety seat expires, they do have a limited useful life.
I follow the instructions for my vehicle and seat so that my child is buckled in right and tight.
Vehicle and child restraint manuals are the best resources to answer your questions regarding a specific vehicle and child restraint. If you still have questions after referring to these resources, visit a Car Seat Fitting Station for help. View a list of free car seat safety check stations in Middle Tennessee and Kentucky.
I never leave my child alone in a car.
Children should be supervised at all times when in and around a vehicle. Always "look for baby" before getting out of a vehicle to ensure that a child is not left behind. Consider writing yourself a note you can place on your dashboard as a reminder. Some smartphone apps, such as the navigation app Waze, can be set to provide a child reminder at the end of every trip.