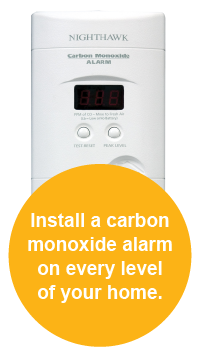 Carbon monoxide is called the silent killer. It's an odorless gas that has the potential to cause serious illness or death from exposure. That is why you need a carbon monoxide alarm on every level of your home, and you have to get out immediately if you hear the alarm go off. 
Here are some warnings to prevent carbon monoxide poisoning:
Don't use a gas oven, dryer or range to heat your home.
Never burn charcoal in a tent, garage, or home.
Don't run a generator in a home, garage, basement or crawlspace.
Don't leave a vehicle running in a garage, even if the door is open. 
Have your chimney, fireplace, or any appliance burning gas, coal, or oil inspected by a professional every year.
Call a professional to assess any noticeable cracks, rusting, or sooting on any chimney, fireplace, or fuel-burning appliances immediately.
Test your CO alarms monthly and familiarize yourself with the symptoms of carbon monoxide poisoning.
Symptoms of carbon monoxide poisoning:
Headache
Fatigue
Shortness of Breath
Nausea
Dizziness
Death
Don't put your family at risk. Make sure you have working carbon monoxide alarms, and be mindful to recognize the risks and symptoms. Take action to correct any risks to exposure in your home immediately. For more information on carbon monoxide safety from the Red Cross click here. 
Source: