Planning on traveling with young children on an airplane? You should know some important details about child restraint systems before heading to the airport. Although the Federal Aviation Administration (FAA) does allow for "lap children" under age 2, they strongly urge the use of an approved child restraint system or device.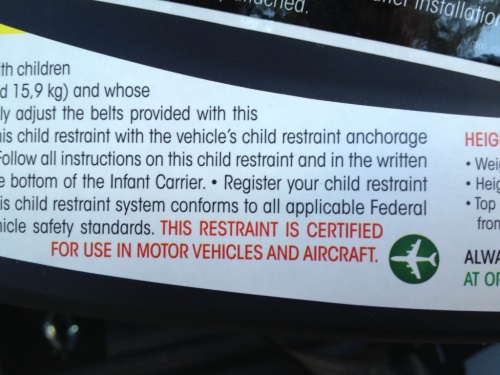 Not all child safety seats are approved for aircraft use, so be sure to check your specific seat. Consider that each airline may establish their own policies, which vary widely.
The FAA provides the following tips for parents.
Ensure your child restraint system (CRS) or device is approved for use on airplanes.
Measure the width of your CRS. It should fit in most airplane seats if it is no wider than 16 inches.
Ask your airline for a discounted fare. Buying a ticket for your child is the only way to guarantee you will be able to use a CRS.
Reserve adjoining seats. A CRS must not block the escape path in an emergency. Many airline policies require a CRS to be placed in a window seat. Do not place a CRS in an exit row.
If you do not buy a ticket for your child, ask if your airline will allow you to use an empty seat. If their policy allows this, avoid the busiest days and times to increase the likelihood of finding an empty seat next to you.
Arrange for your airline to help you if you must make a connecting flight. Carrying a CRS, a child and luggage through a busy airport can be challenging.
Pack a bag of toys and snacks to keep your child occupied during the flight.
Always use a CRS when driving to and from the airport.
Wear your seat belt at all times during the flight.
The National Transportation Safety Board (NTSB) also urges the use of a CRS, but wants the FAA to no longer allow "lap children." They suggest all children, including those under age 2, would be safest in a CRS or similar device.
Unsecured children can pose a danger to other passengers with unexpected turbulence or sudden changes in speed or altitude. Therefore, in addition to planning your next vacation's activities, be sure to take the extra time to review your airline's and the FAA's policies to make the safest choice for your travels.