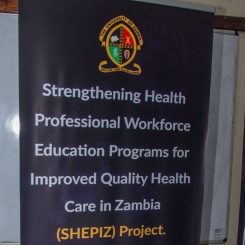 In academia, mentors can provide valuable support and guidance to students in their professional and personal development. However, often mentors do not receive training in theories and practical strategies that could improve their mentorship. Faculty leaders at the University of Zambia (UNZA) are changing this trend to offer training in mentorship theory and effective techniques for faculty in masters and doctoral programs.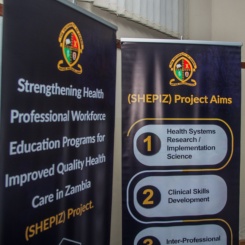 Current and future faculty leaders at the University of Zambia (UNZA) and Mulungushi University are benefitting from a training program that promotes effective leadership and management in education and healthcare by guiding trainees to strengthen their competencies in effectively leading teams. The Strengthening Health Professional Workforce Education Programs for Improved Quality Health Care in Zambia (SHEPIZ) Leadership and Management Program was developed by faculty and students from UNZA, Mulungushi University, and the Vanderbilt Institute for Global Health (VIGH). Drs.
Our friend and colleague, Fastone Goma, M.D., Ph.D., was recently appointed to professorship of Physiology and Cardiovascular Health at the University of Zambia (UNZA) in Lusaka. VIGH faculty and staff have long enjoyed a mutually beneficial relationship with colleagues from the University of Zambia School of Medicine and with its affiliated University Teaching Hospital.