Geoffrey Fleming Academy for Excellence in Education Mentorship Program
About the Fleming Society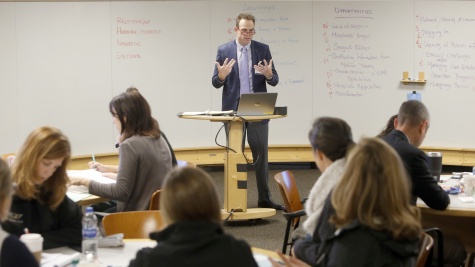 The Geoffrey Fleming Academy for Excellence in Education Mentorship Program, also known as the Fleming Society, is designed to provide facilitated peer mentorship for medical educators. The program is named in honor of Dr. Geoffrey Fleming, MD, Professor of Pediatrics, for his devotion to medical education and mentorship.
Goals of the program are to:
Augment teaching and communication skills

Promote professional growth

Enhance career development

Strengthen connections to the VUSM educator community

Facilitate connections to peers
Under the guidance of the Academy of Excellence in Education (AEE), faculty members in the program participate in monthly small-group meetings. Small groups consist of eight to ten junior faculty members nominated by their respective Chairpersons and are guided by two senior faculty facilitators that demonstrate success in education.  Participants are expected to actively participate in the majority of the meetings over the 24-month program.  If interested or for further questions, please email joseph.gigante@vumc.org or jill.h.simmons@vumc.org
Dr. Geoffrey Fleming:

Dr. Fleming received his undergraduate degree from the University of Florida in 1993, his medical degree from the University of Virginia School of Medicine in 1997, and his Master of Management in Health Care from the Vanderbilt Owen School of Business in 2019. He did his residency in pediatrics at the University of Texas at San Antonio and completed his fellowship in pediatric critical care at the University of Michigan.
Dr. Fleming and his wife, Amy, moved to Nashville from Michigan in 2007 to join the  Vanderbilt University School of Medicine faculty, where he served as a pediatric critical care physician. While on faculty, he discovered a love of educating and later became the Vice President for  Continuous Professional Development.                
Dr. Fleming served as a critical care physician for over two decades and as program director for the pediatric critical care training program for eight years. From 2017-2018, he chaired the Vanderbilt University faculty senate, and in June of 2020, he was honored by the Chancellor with the Vanderbilt University Thomas Jefferson Award, annually given to a member of the faculty for distinguished service' to the University. The University has also designated the conference room where he taught critical care fellows on the fifth floor of the Monroe Carell Jr. Children's Hospital as the "Geoffrey M. Fleming, M.D. Pediatric Critical Care Education and Conference Room." A plaque on the wall says he proved "a tireless advocate for excellence in himself and in his trainees."
Dr. Fleming remained on faculty in the Department until his death in December 2020 from cholangiocarcinoma.