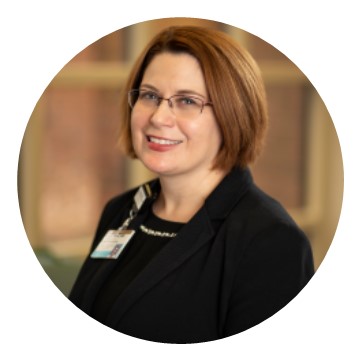 Hello and welcome to our unit!
I'm Laura Jarosemich, MSN, RN-BC, manager of VPH 3 unit at Vanderbilt Psychiatric Hospital (VPH).  We are part of Vanderbilt University Medical Center and located at 1601 23rd Ave S, across from the Monroe Carell Jr. Children's Hospital at Vanderbilt.

The environment on our unit is a therapeutic milieu, focusing on teamwork and individualized care.

We care for adult patients ranging in age 18 and older who are being treated for a variety of psychiatric illnesses including but not limited to depression, anxiety, and other mood disorders. This unit is also the home for geriatric psychiatry. 

Our patients are unique because of their specialized needs and co-existing medical illnesses.

One of the perks of working on my unit is the team environment and caring for an underserved population.

Our nurses are successful because they are self-motivated and have a passionate approach to patient care. Our staff reaches beyond inpatient nursing to care for our patients within the community.

We orient new nurses to our unit by providing specialty-specific orientation in combination with a six-week tiered orientation path and partnering new nurses with a dedicated preceptor. 
We encourage professional growth.
If your career goal is to obtain a strong clinical foundation in psychiatric care, the VPH 3 unit at Vanderbilt Psychiatric Hospital can help with this by introducing you to a variety of psychiatric experiences.
If you have any questions about my unit, please visit Work at Vanderbilt University Medical Center to explore open nursing positions.

Unit/Area Index