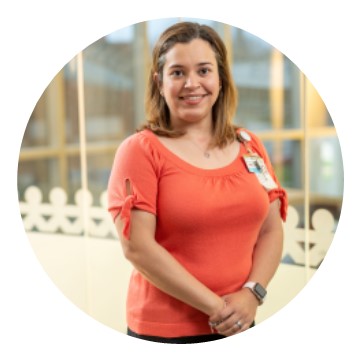 Hello and welcome to our unit!
I'm Cristina Loaiza, MSN, RN, NE-BC, manager of the Pediatric Surgery, Trauma, and Adolescent Medicine unit, also known as PSTAM.  We are located on the 8th floor of Monroe Carell Jr. Children's Hospital at Vanderbilt.
The environment on our unit is friendly, welcoming, and always striving to provide the best patient care possible through our incredible teamwork.
We care for pediatric patients ranging from infants to adolescents, who are being treated for a large variety of reasons, some of which include: Spinal Fusions, Traumas, Cystic Fibrosis, Transplants, Orthopedic Procedures, Urology, Neurosurgery, Cleft Palates, Eating Disorders, Behavioral Health, Feeding Disorders, Craniotomies, Appendectomies, and Tonsillectomies.  

Our patient population is unique because we see a much larger variety of diagnoses than some areas. This allows our nurses a greater variety of challenges and clinical experiences.
One of the perks of working on our unit is the clinical exposure you will gain which will help you determine and pursue your true passion in the nursing field.
Our nurses are successful because they are driven and have determination, focus on family-centered care, and always go above and beyond for their patients. Our nurses are the best of the best.
We orient new nurses by providing a six-week, unit-specific orientation that pairs them with dedicated and enthusiastic preceptors. 
We encourage professional growth.
If your career goal is to polish your skills and develop into a well-rounded nurse, the Pediatric Surgery, Trauma, and Adolescent Medicine unit is a great place to work.
If you have any questions about our unit, please email me at cristina.loaiza@vumc.org or visit Work at Vanderbilt University Medical Center to explore open nursing positions.

Unit/Area Index