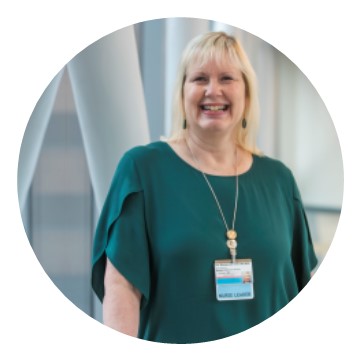 Hello and welcome to my unit!
I'm Eva Montgomery-Lewis, BSN, RN, manager of the Mother Baby Obstetrics unit, also known as 4 East MBO. We are located on the 4th floor of Medical Center East at Vanderbilt University Hospital.
The environment on our unit is supportive and friendly and provides high-quality care for patients in a dynamic and fast-paced setting.
We care for women of all ages, as well as newborns, from the healthiest to those requiring complex health care needs. Our population consists of mother-baby dyads, stable antepartum, and occasionally patients with benign gynecological diagnoses or surgeries.

Our patients are unique because they are experiencing life-changing events and we get to be involved and support them along the way.
One of the perks of working on my unit is excellent teamwork and work-life connections with amazing staff!
Our nurses are successful because they have excellent clinical assessment skills and are committed to providing the best possible care to the patients we serve.
We orient new nurses to our unit by providing a personalized approach with a range of 6-8 weeks for unit-specific orientation with dedicated preceptors.
We encourage professional growth.
If your career goal is professional growth in a supportive environment, Mother Baby Obstetrics unit can help with this by providing you with strong clinical experiences in both Women's Health and neonatology.
If you have any questions about my unit, please email me at eva.montgomery-lewis@vumc.org, or visit Work at Vanderbilt University Medical Center to explore open nursing positions.



Unit/Area Index