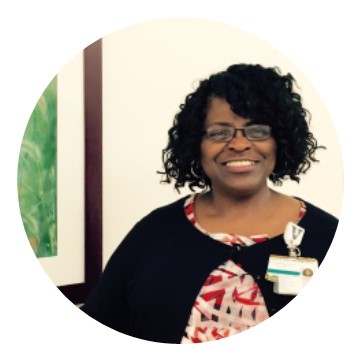 Hello and welcome to our unit!
I'm Janice Sisco, BSN, MHA, RN, Manager of the Medicine Observation Unit.  We are located on 7 South on the 7th Floor of Vanderbilt University Hospital (VUH).
The environment on our unit is fast-paced and unpredictable.  As a unit, we value teamwork, knowledge sharing with our patients, and the delivery of quality safe care.
We care for adult patients 18 years and older who are being treated for a variety of medical diagnoses.  

Our patients are unique because of the wide range of medical, surgical, and other specialized areas of care.
One of the perks of working on our unit is the opportunity to work with a great group of peers and other members of the interdisciplinary team. 
Our nurses are compassionate, have a can-do attitude, and a zeal for learning.   We, as a team, are committed to their success and share a common goal in the delivery of evidence-based and quality safe care.
We orient new nurses to our unit by providing a four-to- six-week unit specific orientation with a dedicated preceptor, nursing education specialist, and leadership team. 
We encourage professional growth.
If your career goal is an advancement to a step-down or ICU, our unit will provide you with the necessary foundation to take steps toward achieving your goals. The Medicine Observation Unit can help enhance your organizational, patient assessment, and time management skills.
If you have any questions about my unit, please email me at janice.sisco@vumc.org or visit Work at Vanderbilt University Medical Center to explore open nursing positions.

Unit/Area Index