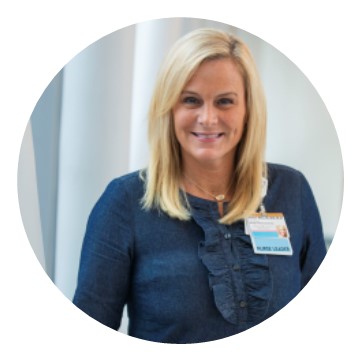 Hello and welcome to our unit!
I'm Shannon White, MSN, RN, C-EFM, manager of the Labor & Delivery and Maternal Special Care unit, also known as L&D and MSC.  We are located on the 4th floor of Vanderbilt University Hospital (VUH).
The environment on our unit is high-paced and dynamic, with a diverse patient population.
We care for adult and pediatric patients ranging in age from newborns to 50+-year-old women who are being treated for obstetrical care before and after delivery.  

Our patients are unique because we care for two patients in one.
One of the perks of working on our unit is that our team works very well together and is cohesive. Nobody hesitates to quickly jump in to help each other whenever needed.
Our nurses are successful because they have strong critical thinking skills, strive to give the highest quality of care possible, are compassionate, and adapt easily to a rapidly changing environment.
We orient new nurses to our unit by providing an extensive ten to twelve-week unit-specific orientation with dedicated preceptors.  
We encourage professional growth. 
If your career goal is to specialize in the care of women during their childbearing cycle, Labor & Delivery and the Maternal Special Care unit can help with this by giving you the opportunity to learn the very specialized skill-set of being a high-risk labor and delivery nurse.
If you have any questions about my unit, please email me at shannon.d.white@vumc.org or visit Work at Vanderbilt University Medical Center to explore open nursing positions.
 

Unit/Area Index