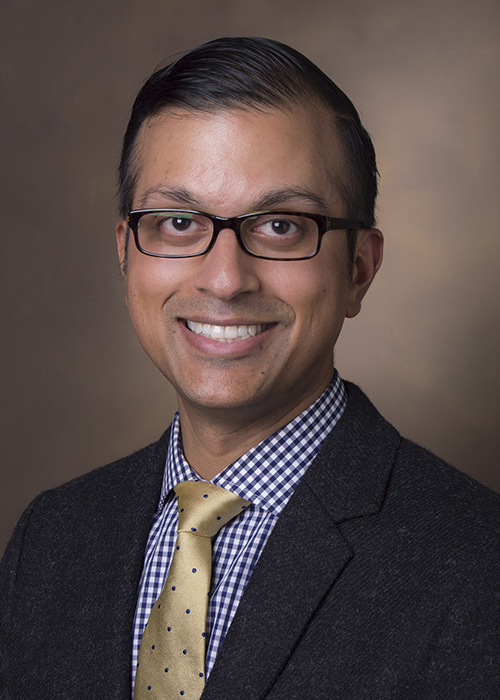 Sekhar Padmanabhan, MD
Division of Surgical Oncology & Endocrine Surgery
Phone
Phone: (615) 322-2391
Clinic Phone
Appointments: (615) 936-8422
Dr. Padmanabhan joined our surgical faculty in the Division of Surgical Oncology and Endocrine Surgery upon completing a fellowship in Hepatobiliary Surgery and Complex General Surgical Oncology at Memorial Sloan Kettering Cancer Center, New York, NY.  Among his major research and clinical interests are hepatobiliary cancer surgery and pancreatic cancer surgery. His patient care and research also focus on bile duct cancer, liver cancer and neuroendocrine surgery. Dr. Padmanabhan's research going forward centers on the role of immunotherapy in colorectal liver metastases.
Research
Dr. Padmanabhan's past research has focused on chemotherapeutic resistance in colorectal cancer. Specifically, he studied the role of epithelial-to-mesenchymal transition in colon cancer and its role in cellular evasion of programmed cell death.  Currently, Dr. Padmanabhan is exploring the role of immunotherapy for micro-satellite stable (immunotherapy-resistant) colorectal liver metastases. His studies will center on identifying patients that may benefit from immunotherapy using advanced next generation sequencing technology. Additionally, his efforts will test novel immunotherapy delivery mechanisms for patients with immunotherapy-resistant disease. Among Dr. Padmanabhan's publications in peer-reviewed journals are:  cFLIP Critically Modulates Apoptotic Resistance in Epithelial to Mesenchymal Transition, Oncotarget; Epithelial Smad4 Deletion Up-Regulates Inflammation and Promotes Inflammation-Associated Cancer, Cellular and Molecular Gastroenterology and Heptatology; Differential Cell Susceptibilities to KrasG12D in the Setting of Obstructive Chronic Pancreatitis, Cellular and Molecular Gastroenterology and Hepatology.
Memberships, Awards and Honors
Dr. Padmanabhan is board certified for the American Board of Surgery, General Surgery, and board eligible American Board of Surgery, Complex General Surgical Oncology. He holds membership in the American College of Surgeons, Society of Surgical Oncology and in both the American and International Hepato-Pancreato-Biliary Associations.  He is also a member of the Association for Academic Surgery. Dr. Padmanabhan is a recipient of the Alpha Omega Alpha Award, Vanderbilt University School of Medicine, and received the Joseph W. & Bonnie J. Graves Award and the Harwell Wilson Award by the Department of Surgery at Vanderbilt University Medical Center.
Education
Dr. Padmanabhan received his Bachelor of Science at Duke University, Durham, North Carolina. He earned his MD at the University of Cincinnati College of Medicine, Cincinnati, OH and completed both his internship and residency at Vanderbilt University Medical Center, Nashville, TN. Dr. Padmanabhan served a fellowship in Hepatobiliary Surgery and Complex General Surgical Oncology at Memorial Sloan Kettering Cancer Center, New York, NY. 

EMAIL:  Sekhar.Padmanabhan@vumc.org
WEBSITE: Division of Surgical Oncology & Endocrine Surgery
WEBSITE: Vanderbilt Pancreas Center
WEBSITE: Hepatology (Liver Care)