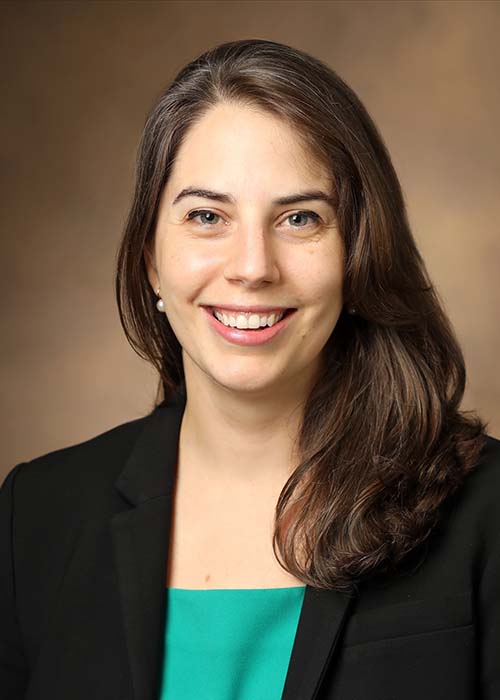 Rachel McCaffrey, M.D.
Assistant Professor of Surgery
Division of Surgical Oncology & Endocrine Surgery
Phone
Phone: (615) 322-2391
Clinic Phone
Appointments: (615) 322-2064
Dr. McCaffrey joined our surgical faculty in the Division of Surgical Oncology and Endocrine Surgery following her Breast Surgical Oncology Fellowship at the University of Michigan Hospital, Ann Arbor, MI. The focus of her clinical and research interests includes benign and malignant breast diseases, breast cancer and breast cancer surgery. Other facets of her patient care and research center on LGBT breast health and breast oncoplastic surgery. She also cares for patients with a multidisciplinary, patient centered approach for the treatment of breast cancer that is both compassionate and aesthetically excellent.
Research
Dr. McCaffrey's collaborative and independent research has been central in presentations at medical society and academic meetings. Among recent presentations are the following:  Management of Early Stage HER2+ Breast Cancer and the Potential Role for Axillary Imaging to Improve Identification of Nodal Metastasis, presentation at the American Society of Breast Surgery, Virtual; The Impact of Recurrence Score Vs. Sentinel Lymph Node Biopsy on Treatment Decisions in Early Breast Cancer, presentation at the San Antonio Breast Cancer Symposium, San Antonio, TX. One of Dr. McCaffrey's recent publications in a peer-reviewed journal is titled Wandering Spleen in a Geriatric Patient-a Rare Presentation of Gastric Volvulus, Journal of the Royal Medical Society.
Memberships
Dr. McCaffrey is a board certified general surgeon and a fellowship trained breast surgical oncologist. She is certified by the American Board of Surgery and a member of several national societies. She is passionate about teaching and mentoring the next generation of doctors and surgeons. 
Education
Dr. McCaffrey received her undergraduate degree cum laude from Colgate University, Hamilton, NY and her medical degree from Florida Atlantic University College of Medicine, Boca Raton, FL. Her postdoctoral training includes an internship and residency at Brown University Warren Alpert Medical School, Providence, RI. This was followed by a Fellowship in Breast Oncology at the University of Hospital, Ann Arbor, MI. 
WEBSITE: Division of Surgical Oncology & Endocrine Surgery - Breast Diseases
WEBSITE: Vanderbilt Breast Center