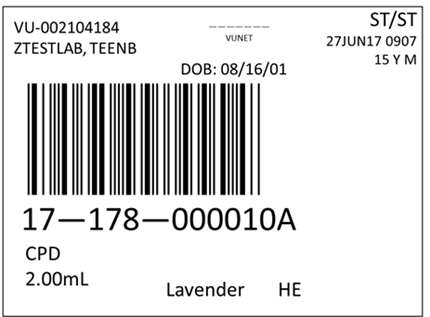 Use of Lab Ready Labels
Lab ready labels are used for clinical pathology (CBC, UA, BMP, ABG, etc).
Printing
Lab ready labels can only be printed ONCE as they are generated from Cerner using eStar Print Label
Print the Lab Ready Label just prior to use- not more than 4 hours before collection time (Keep in mind AM batch lab requisitions will NO LONGER print)
The clinician collecting the specimen from the patient initiates the label print
Use the default printer or designate an alternate label printer
VUMC ID and Collection Information Not Required
Do not write on the Lab Ready Label
The collector's VUMC ID and collection information is captured through the scanning process and eliminates the need to write on the label
Damaged or Lost Lab Ready Labels
Lab Ready Labels can only be printed once
In the event the Lab Ready Label is lost or damaged the specimen will need to be labeled with a Generic ADT Label and sent to the lab with an E-requisition
DO NOT SIGN YOUR VUMC ID on the Lab Ready Label 
Writing on the Lab Ready Label can cause "damage" as it may prevent the label from being electronically read within the lab
Multiple Lab Ready Labels Indicate the same Color Vacutainer
Each individual Lab Ready Label that prints requires a specimen
Lab orders are entered via eStar and then processed by Cerner
Cerner will process all lab orders via a process called "netting" which determines exactly how many vacutainers are needed to complete the indicated order
Cerner will then produce the correct number of labels that are available for print
There may be up to a 90 second delay from the time of order entry completion to availability of labels to print due to the netting process
Example:
Three Lab Ready Labels are available to print or have been printed all indicating a lavender vacutainer.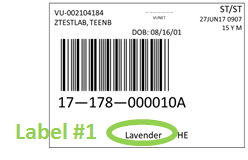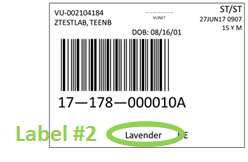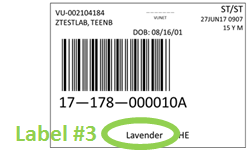 How many lavender vacutainers are needed to complete this specimen collection?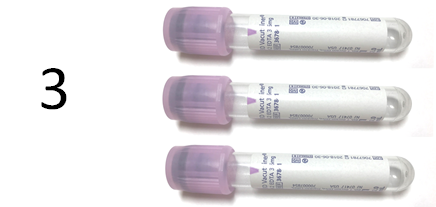 Difficult Lab Draws
Difficult lab draws due allow for an exception. If three lavender vacutainers are required for the specimen but due to the difficulty in obtaining the specimen only one vacutainer could be filled, please do the following:
Properly label one specimen.
Place the extra labels in the bag with the labeled specimen and send the labeled specimen and the extra labels to the lab.