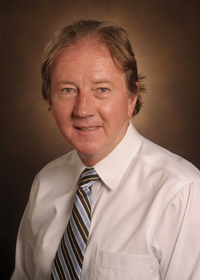 Professor of Obstetrics and Gynecology
Pierre Soupart Chair in Obstetrics and Gynecology
Professor of Pathology, Microbiology and Immunology
Adjunct Professor of Obstetrics and Gynecology at Meharry Medical College
Reproductive Medicine, Endometrial Dysfunction, Endometriosis, Environmental Endocrine Disruptors
Kevin G. Osteen, Professor of Professor of Obstetrics and Gynecology, Professor of Pathology, Microbiology and Immunology at Vanderbilt University School of Medicine and is an Adjunct Professor of Obstetrics and Gynecology at Meharry Medical College.  He currently holds the Pierre Soupart Chair in Obstetrics and Gynecology.  Dr. Osteen also directs the International Endometriosis Association Research Program at Vanderbilt and has served as an advisor to various biotechnology and large pharmaceutical companies.
Dr. Osteen received his B.S. degree from the University of South Carolina and his Ph. D. degree from the Medical College of Georgia in 1980. He completed his postdoctoral training in reproductive physiology at the University of Maryland School of Medicine in Baltimore, MD under the mentorship of Dr. Cornelia Channing.
Dr. Osteen moved to Vanderbilt University School of Medicine as an Instructor of Obstetrics and Gynecology in 1983 as a member of the team that launched the first in vitro fertilization (IVF) program in Tennessee and the fourth program in the United States. He also helped establish a board-certification program for basic scientists who desired to become directors of IVF programs. Having trained in basic and translational endocrinology, Dr. Osteen's research program has always focused on the clinical relevance of his basic science initiatives. Since the 1990s his research program has focused on the relevance of environmental endocrine disruptors in the pathophysiology of infertility related to the disease endometriosis.  In particular, his laboratory has focused on the potential that early life exposure to environmental toxicants may set the stage for adult onset diseases affecting reproductive success by disrupting normal steroid-mediated cell-cell communication.  Recent research efforts in his laboratory have begun to use recently developed "organ-on-a-chip" technology to create the first endometrium and endometriosis chip models. These models will provide a comparative system in which to investigate the intrinsic properties and hyper-inflammatory state of a normal and endometriosis endometrium that promotes disease progression.
Research Description
Among normal adult tissues, the endometrial lining of the human uterus undergoes perhaps the most dynamic cycle of steroid controlled growth, differentiation and tissue breakdown. The rate of estrogen-driven cell growth during the proliferative phase of the menstrual cycle rivals that of many tumors while progesterone inhibits endometrial growth and appears to provide protection from the development of both benign diseases and certain neoplasms. Ovarian steroids clearly control the endometrium and endometrial activity; however, steroids alone cannot account for the entire orchestration of such well-controlled and often focal patterns of cellular proliferation and differentiation which are observed. To better understand steroid sensitive tissue behavior, my research laboratory has focused on the endometrium as a model to identify interrelationships between steroid action and stromal-epithelial cell communication via specific paracrine factors. Of special interest to us are the cellular and molecular mechanisms which control steroid-dependent versus steroid-independent expressions of metalloproteinases. These enzymes are necessary for degradation of extracellular matrix proteins and play important roles in the extensive tissue remodeling which normally occurs during the menstrual cycle as well as during establishment of the hemochorial placenta. Metalloproteinases may also contribute to the pathophysiology of endometrial dysfunction including abnormal bleeding, defects of placentation and the extrauterine disease endometriosis. Recently, we have extended our studies to investigate altered metalloproteinase gene and protein expression relative to the reproductive toxicology of dioxin.
Publications on