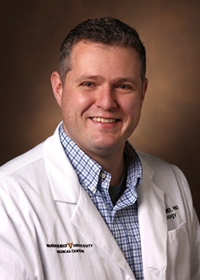 Jonathan E. Schmitz, Ph.D., M.D.
Assistant Professor of Pathology, Microbiology and Immunology
4514 TVC
1301 Medical Center Dr.
Nashville
Tennessee
37232-5310
Opportunistic pathogens, Microbe-microbe interactions, Personalized microbiology
Research Description
My interests lie at the intersection of microbial pathogenesis and clinical microbiology, with current efforts focused primarily on the emerging enteric pathogen Helicobacter cinaedi. Although this bacterial species is related to the well-studied gastric pathogen Helicobacter pylori, the spectrum of illness caused by H. cinaedi is quite distinct. H. cinaedi is an agent of gastroenteritis in immunocompromised patients, but is notable for extra-intestinal manifestations that include bacteremia and cellulitis. At the same time, a fundamental understanding of both this organism's biology and pathogenesis is hindered by its highly fastidious growth requirements and the difficulty with which it is isolated from clinical specimens. Through a combination of emerging transcriptomic and proteomic technologies, I hope to gain insights into the behavior of H. cinaedi that can be translated into a better understanding of its pathogenesis, as well as improved clinical diagnostics. This work is being conducted in collaboration with Prof. Timothy Cover of the Departments of Medicine and Pathology, Microbiology, and Immunology.
Publications on