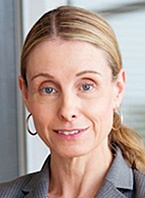 Elizabeth J. Phillips, M.D.
John A. Oates Chair in Clinical Research
Professor of Pathology, Microbiology and Immunology
Professor of Pharmacology
Professor, Department of Medicine, Division of Infectious Diseases
1161 21st Avenue South
Nashville
Tennessee
37232-2582
HIV, Drug Safety, Pharmacology, Personalized Medicine, Drug Hypersensitivity, HLA, Immunopathogenesis, Severe H1N109 Disease
Research Description
Elizabeth Phillips, MD is Professor of Medicine, Pharmacology, Pathology, Microbiology and Immunology and is Director of Personalized Immunology at the Oates Institute for Experimental Therapeutics at Vanderbilt University Medical Center. She is also Director of the Centre for Clinical Pharmacology and Infectious Diseases at the Institute for Immunology and Infectious Diseases, Murdoch University in Perth Western Australia. She is also co-director for the personalized-care scientific working group for the Vanderbilt Center for AIDS Research. She has been immensely successful in answering important scientific questions about variation in drug responses, in particular interactions between drugs and the immune system. She played a key leadership role in establishing HLA-B*57:01 and the roadmap from discovery to translation of HLA-B*57:01 as a routine screening marker used prior to abacavir prescription to prevent hypersensitivity.  Her current work focuses on defining the immunopathogenesis of severe adverse drug reactions and in particular using innovative technologies to define genetic, molecular and cellular signatures in severe cutaneous adverse drug reactions such as SJS/TEN that will guide prevention, early diagnosis and define new therapeutic targets. She is currently is part of the PGRN and a principal investigator on a P50 grant to study the immunopathogenesis and improvement in the prediction  of HLA-mediated drug reactions.
Publications on