Resiliency workshop - September 2nd, 2021 
Save the Date! Registration is now OPEN - Click on the image or here to register!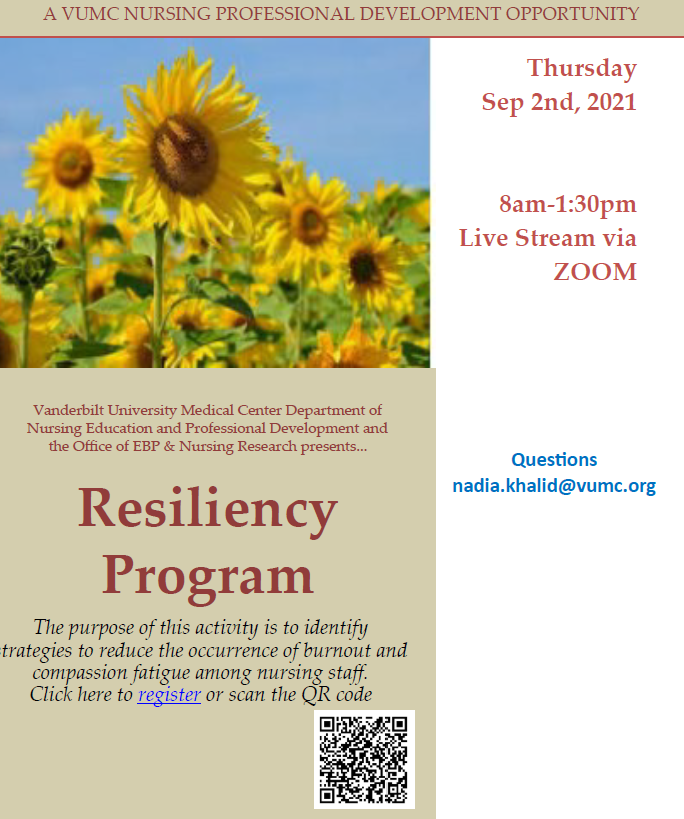 Click on the poster title to view the poster!

Author

Co Author(s)

Title

Toshi Handa, BSN, RN
-

Karen Hande, DNP, ANP-BC, CNE, FAANP

Heather Jackson, PhD, FNP-BC, NEA-BC

Optimizing Nurse Practitioner Transition to Oncology Practice: Design, Implementation, and Outcomes of a Fellowship

Bethan Hughett, RN, BSN, CPEN

Kate Copeland, MSN, RN, NEA-BC
Standardizing Care for Aggressive Patients
 
Jodie Pickett RN, BSN, CCRN

Kate Copeland, MSN, RN NEA-BC

Child Safety Screen Assessment
 
Cassandra Bruns, DNP, APRN, FNP-BC
Deonna Moore, PhD, MSN, ACNP, Irene Feurer, PhD, Anthony Dreher, MPA, Scott Rega, MS      
 

Health-Related Quality of Life in Living Organ Donors: Research Project Development and Process Improvement

Karen Hande, DNP, ANP-BC, CNE, FAANP
 
Heather J. Jackson, PhD, APRN, FNP-BC, NEA-BC
 

Insight on Use and Effects of Cannabidiol From Patients: Nursing Implications

Bridget Fitzgerald, MSN, RN, AGPCNP-BC
 
Heather Jackson, PHD, APRN, FNP-BC;  Karen Hande, DNP, ANP-BC, CNE, FAANP
 

The Role of Battlefield Acupuncture in Reducing Pain and Opioid Use in Metastatic Papillary Thyroid Cancer- Associated Trigeminal Neuralgia 

Amy Hayes, BSN, RN, OCN
Kamran Idrees, MD, MSCI, MMHC, FACS
 

Care Coordination in Newly Diagnosed Pancreatic Cancer Improves Time to Treatment

Meghan Luebbert, MSN, CPNP-PC

 
Children's Hospital Outpatient Center (CHOC) Orientation Redesign

 

For questions please contact: 

Wendy Lloyd - Senior Clinical Research Quality Analyst-Education
A VUMC Nursing Professional Development Opportunity

Save the Date! Click here to register and view the agenda!

Tuesday - May 18th, 2021

The purpose of this program is to identify strategies to reduce the occurrence of burnout and compassion fatigue among nursing staff

---

 

Vanderbilt University Medical Center, Department of Nursing Education and Professional Development is an approved provider of continuing nursing education by the Tennessee Nurses Association, an accredited approver by the American Nurses Credential Center's Commission on Accreditation.