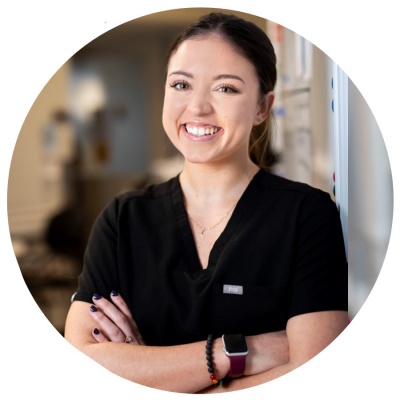 I started my journey at VUMC on the Acute Care of the Elderly floor on 7RW. I am so thankful to still be working on 7RW, and I am currently training to transition into the interim CSL position. I am a part of the Age-Friendly Initiative committee, which focuses on providing age-friendly care across the hospital, by focusing on the complex needs of older adults. 
I considered other residency programs in the area, but being from Nashville, I knew I wanted to be a part of the great work that Vanderbilt does for our community. Also, when I saw Vanderbilt had an
ACE unit, my heart was instantly tugged in that direction as I have a passion for caring for the elderly. 
I loved how VUMC provided me with a year-long residency program. It was great being able to check in periodically throughout the first year with other nurse residents from all areas of the hospital to share our experiences and stories. The first several weeks of training prior to being on the floors were especially helpful in working on nursing skills and learning the ins and outs of Vanderbilt! Having designated nurse educators on our units has been super helpful as well. The educators are great resources, and they are always available for continuing education-there is always more to learn as a nurse!
I love how Vanderbilt is made up of such a diverse group of employees from all over the world, with the common goal of caring for our patients. Vanderbilt isn't hesitant to take a stand on social issues that affect our patients both inside and outside of the hospital, and I will always appreciate that. Vanderbilt supports my goals and career development, and always keeps the patient's best interest in mind when making decisions. I know I can confidently recommend Vanderbilt to friends and family in need!