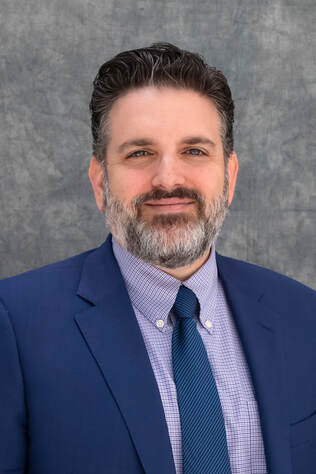 Peter J. Embí, MD, MS, FACP, FACMI, FAMIA, FIAHSI
Department of Biomedical Informatics
Senior Vice President for Research and Innovation
2525 West End Avenue
Nashville
Tennessee
37203
Peter Embí, MD, MS, serves as Professor and Chair of the Department of Biomedical Informatics (DBMI), Professor of Medicine, and Senior Vice President for Research and Innovation at Vanderbilt University Medical Center (VUMC), roles he began on Jan. 1, 2022. 
As an internationally recognized researcher, educator and leader in the field of biomedical informatics, Dr. Embí is a frequently invited presenter and lecturer and has authored more than 160 peer-reviewed research articles, abstracts, books and book chapters. His areas of interest include clinical informatics, research informatics, public health informatics, and data-driven learning health systems. He had held research grants from such agencies as the National Institutes of Health's National Center for Advancing Translational Sciences, National Library of Medicine, National Institute for Drug Abuse and the Agency for Healthcare Research and Quality, as well as numerous nonprofit foundations and public health agencies. 
He earned a Bachelor of Science from the University of Florida, Gainesville, and his medical degree from the University of South Florida in Tampa. He completed residency, chief residency, an informatics fellowship and a Master of Science in Medical Informatics & Clinical Epidemiology at Oregon Health & Science University. He then completed his rheumatology and immunology fellowship training at the Cleveland Clinic before joining the faculty at the University of Cincinnati College of Medicine.
Prior to his move to VUMC, Dr. Embí served as President and CEO of the Regenstrief Institute, Professor and Associate Dean for Informatics and Health Services Research at the Indiana University School of Medicine, Associate Director at Indiana CTSI and Vice President for Learning Health Systems at IU Health. Previous positions included leadership roles at The Ohio State University, where he was interim chair of the Department of Biomedical Informatics, Associate Dean for Research Informatics for the College of Medicine and served as the nation's first Chief Research Information Officer at The Ohio State University Wexner Medical Center. Prior to that, he served on the faculty of the University of Cincinnati College of Medicine, where he was the founding director of the UC Center for Health Informatics and director of Informatics for the Cincinnati Center for Clinical and Translational Science and Training. Dr. Embí also has experience in a variety of entrepreneurial activities, including co-inventing and co-founding health IT-based startups, partnering with companies to create and evaluate health care innovations, and developing programs that guide and enable other faculty to translate their discoveries into practice.
In recognition of his contributions to the field, Embí has been elected to Fellowship in the American College of Physicians (FACP), the American College of Medical Informatics (FACMI), the American Medical Informatics Association (FAMIA) and the International Academy of Health Sciences Informatics (FIAHSI). He has also served in numerous national leadership roles, including as the immediate past president and chair of the Board of Directors of the American Medical Informatics Association. He also has served on many national advisory boards, including service on the Board of Scientific Counselors to the National Library of Medicine and on the National Advisory Council for the Agency for Healthcare Research and Quality (AHRQ).
Follow Dr. Embí on Twitter here
Find Dr. Embí on LinkedIn here