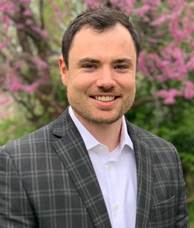 Nicholas Goldsmith, PharmD, MHSA
MS Student, Applied Clinical Informatics
Fall 2022-Spring 2024 (Omnicell Fellow)
My name is Nick Goldsmith, and I will be completing this program as part of my Post‐Doctoral Informatics Fellowship. My fellowship is sponsored by Omnicell, but I will be working at VUMC. I recently completed my PharmD and Master of Health‐Services Administration at Lake Erie College of Osteopathic Medicine in Erie, PA. Prior to professional school, I completed my BS in Biological Sciences at the University of Pittsburgh.
Professionally, I hope to be a leader in health‐system pharmacy operations or work in industry pharmacy in automation and technology. I hope to gain more formal training in informatics during this program, so that I could leverage that knowledge to advance pharmacy operations in a hospital setting. I hope to bridge the gap of knowledge that is often present between clinicians, administrators, and people in informatics or data science. Already having experience in the clinical pharmacy and administrative aspects, I feel I bring good value, but there is a lot I could learn from the informatics perspective. I completed an administrative rotation with a director of pharmacy, that heavily involved implementing Omnicell technology, and using data to optimize workflow, but I feel as though I barely scratched the surface of what I can do as far as informatics goes. I am excited to work on Omnicell automation and technology projects at VUMC and believe this program will complement the work very well.
Read more about the Omnicell partnership with the MSACI program here.