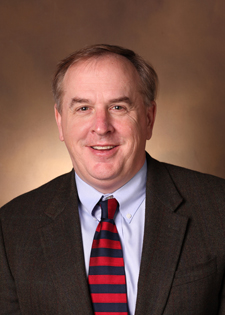 Ian Jones, M.D.
Department of Emergency Medicine and Biomedical Informatics
Executive Medical Director for Emergency Services
Vice Chairman for Clinical Affairs, Department of Emergency Medicine
A lifelong resident of Tennessee, Dr. Ian Jones received his BA from Rhodes College in 1986 and his BS in 1988 from the University of Tennessee. He received his MD in 1993 from the University of Tennessee where he was a member of Alpha Omega Alpha. He completed his Emergency Medicine Residency at Vanderbilt University Medical Center and also served as Chief Resident. Dr Jones joined the faculty in 1998. He is currently the Vice Chair of Clinical Affairs and serves as the Executive Medical Director for Vanderbilt Emergency Services.

Dr. Jones was instrumental in the development of an integrated medical informatics system for the E.D. and led the Epic transition which utilized many of the innovations and workflows developed in the legacy system. His interest include using informatics to tools to enhance patient care, streamlining documentation, and patient flow as well as limiting some of the burdens of the EHR on providers and nurses.

Besides Biomedical Informatics, his medical interests include wilderness medicine, international medicine, environmental emergencies, dive medicine, and the E.D. evaluation of chest pain. He is on the Nashville cave rescue team and assists the cave rescue team at Mammoth Cave National Park. Dr Jones is also an avid scuba diver and underwater photographer who has traveled throughout the world. His photographs have appeared in several publications including JAMA and the New England Journal of Medicine. He is a member of the Rhodes College athletic hall of fame where he still holds the all time goal scoring record. Additional outside interests include wildlife and astrophotograpy, snow skiing, and cave exploration.