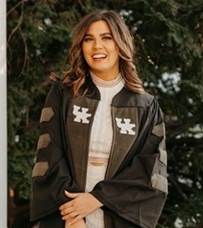 Hanna Semega, PharmD, MBA
MS Student, Applied Clinical Informatics
I was born and raised right outside of Pittsburgh, PA and have been in Lexington, KY the last 6 years for school. I attended the University of Kentucky for two years of undergrad, followed by four years of pharmacy school. The last three years of receiving my PharmD, I was also in the evening MBA dual‐degree professional program. The MBA program allowed me to work with all genres of healthcare professionals and gain/respect different perspectives when it comes to business decisions. During those 3 years, I took the liberty to further expand my knowledge by receiving the Project Management and Lean Six Sigma Green Belt certifications through Transplace. Around the time of graduation, I accepted a post‐doctoral fellowship at Omnicell / Wake Forest Baptist Health.
During my advanced pharmacy practice rotations I took a healthcare informatics rotation, where I worked a lot with IT problem solving (i.e. ScriptPro and Epic interfaces), shadowing multiple administration meetings, and completing projects for a UK Clinic to help better standardize their pharmacy practices (updated call sheet, cheat sheet for billing codes, binder for IT tickets). What I am looking forward to the most in the MS‐ACI didactic portion is the chance to understand those interfaces on a more clinical level and appreciate all they can do to help streamline a healthcare facility.
Learn more about the Omnicell-MSACI partnership here.