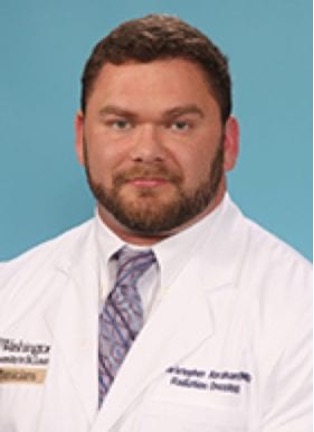 Christopher Abraham, MD
Assistant Professor, Radiation Oncology
Washington University School of Medicine
Former MS Student, Applied Clinical Informatics
Fall 2020-Spring 2022
I am an Associate Professor in Radiation Oncology at Washington University in St. Louis. I graduated from Saint Louis University School of Medicine in 2011 and completed residency in radiation oncology at Washington University in St. Louis in 2016. My areas of practice and academic research are in primary and secondary CNS malignancies.
While I have some practical experience with informatics, I am interested in furthering my conceptual understanding.  Prior to enrolling in the MSACI programing, I have been working to improve my baseline knowledge of Epic EMR having completed power user and physician builder training courses.  Ideally, I would like to apply new knowledge and experience to improve my patient outcomes and Radiation Oncology as whole.  However, I am interested to see informatics initiatives at the hospital or hospital system wide level. 
Outside of work I am a father to two daughters, Pea and Rosie.   My wife and I enjoy spending time outdoors, time with the family, and traveling.  I enjoy learning more about computer science in my free time by working on my home server and trying to learn how to code.