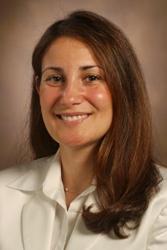 Asli Ozdas Weitkamp, PhD, FAMIA
Department of Biomedical Informatics
Knowledge Engineering, Health IT
Asli Ozdas Weitkamp, PhD, FAMIA, is an Associate Professor of Biomedical Informatics at Vanderbilt University Medical Center (VUMC) with research, teaching and operational responsibilities. She directs the Knowledge Engineering Portfolio in Health IT at VUMC, overseeing the curation of a variety of knowledge bases that drive clinical decision support (CDS) applications integrated into VUMC's clinical systems. 
She has contributed significantly as a principal investigator or co-investigator on extramural grants, authored over 30 peer reviewed manuscripts published in leading journals in the field, and presented numerous abstracts at national conferences. 
She has been an invited lecturer in a variety of graduate level courses and has been the course director for the "Data to Knowledge: Clinical Data Standards" as well as the "Practicum Experience" courses for the Master's in Applied Clinical Informatics (MSACI) program. Dr. Weitkamp has been a member of the American Medical Informatics Association (AMIA) since 2004, serving on AMIA committees including the Scientific Program Committee. 
Research Interests: Designing, developing, and implementing CDS that improve key organizational performance metrics including quality, safety, and resource utilization in a fashion that brings the largest value to the organization, its providers and patients while creating the least possible workflow disruption. Sustainable and sharable decision support, knowledge engineering, clinical knowledge management processes. Current research effort focuses on clinical knowledge management best practices within the framework of sharable, interoperable, and sustainable Clinical Decision Support.