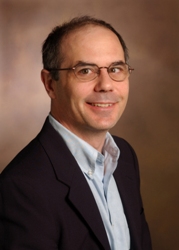 Steven Brown, MD, MS, FACMI, FAMIA, FIAHSI
Department of Biomedical Informatics
Director of Knowledge Based Systems (KBS) Veterans Health Administration
Office Address
2100 West End Avenue
Suite 840
Nashville
Dr. Brown has a nearly 40 year track record of accomplishments in health science informatics domains including electronic health records, terminology and knowledge representation, large-scale quality improvement and interoperability. His body of work has been recognized by dignitaries including the Vice President of the United States, the Commissioner of the  U.S. Food and Drug Administration, Secretaries of the U.S. Department of Veterans Affairs (VA) and the VA Under Secretary for Health.
Dr. Brown began his informatics career in 1981 upon graduation from Brown University (Providence, Rhode Island) as a programmer and research assistant working on applications of image analysis for diagnostic surgical pathology.  The research team developed deterministic approaches to aid in the diagnosis of hyperparathyroidism and oat cell carcinoma using low level languages on 8-bit processors. 
He earned his MD degree from Brown in 1987 and completed internship and residency in internal medicine at Emory University (Atlanta Georgia USA).  Dr. Brown joined the Internal Medicine faculty at Emory in 1990 and became involved in the creation of one of the country's earliest Computerized Health Record systems named THERESA at a large public inner-city hospital. THERESA included features such as a graphical user interface, clinical notes and provider order entry.
Dr. Brown's interest in informatics led him to complete an NLM-sponsored post-doctoral medical informatics fellowship at Vanderbilt University (Nashville Tennessee USA) under Dr. Randolph Miller, and a master's degree in biomedical engineering. He has been a Vanderbilt faculty member since 1994.
Dr. Brown began a long-standing relationship with the United States Department of Veterans Affairs (VA) in 1996, initially serving as the Chief Information Officer of the Nashville & Tennessee Valley VA Medical Centers. In his tenure, Dr. Brown oversaw the deployment of the VA Computerized Patient Record System (CPRS) and Bar Code Medication Administration (BCMA).  Subsequently he became involved at the national level with data standards relevant to VA clinical systems. This included serving as the Terminology lead for the federal Government Computerized Patient Record Framework project (GCPR) and being the national project leader for the VA's efforts to create standard drug reference terminologies. Dr. Brown was an originator of the CAPRI system for VHA-VBA health and disability data interoperability. CAPRI is used nationwide to this day to provide critical information for some 500,000 Veterans disability exams and over $30 billion per year in disability benefits.
In his current role as Director of Knowledge Based Systems (KBS) at the US Department of Veterans Affairs, Dr. Brown oversees a team of over 50 staff and contractors working in the areas of clinical decision support, terminology, standards and interoperability and informatics architecture. The VA KBS Office has won 4 Federal Health IT Innovation awards in the past 3 years.
Dr. Brown has authored or co-authored 85 publications and 8 book chapters and was elected to the American College of Medical Informatics in 2005. He was board certified in Clinical Informatics by the American Board of Preventive Medicine (ABPM) in 2014 and was recently selected to sit as a ABPM Clinical Informatics sub-board member.
Updated 9/9/2020