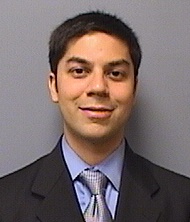 Dr. Deepak Gupta is an Instructor in Medicine and physician scientist in the Vanderbilt Heart and Vascular Institute and Vanderbilt Translational and Clinical Cardiovascular Research Center (VTRACC). Dr. Gupta came to Vanderbilt University Medical Center in 2013 from Brigham and Women's Hospital and Harvard Medical School where he completed advanced training in non-invasive cardiac imaging and research.  Prior to this, he was a cardiovascular medicine fellow at Northwestern University and resident in internal medicine at Duke University.  Dr. Gupta obtained his medical degree from The Ohio State University College of Medicine.

Dr. Gupta's patient-oriented clinical research predominantly focuses on the development and outcomes in hypertension and heart failure. His clinical interests include the care of patients with heart failure with preserved ejection fraction, as well as non-invasive cardiac imaging, including echocardiography, cardiac magnetic resonance, and nuclear imaging.

At the Vanderbilt Memory and Alzheimer's Center, Dr. Gupta leads the echocardiography core lab.