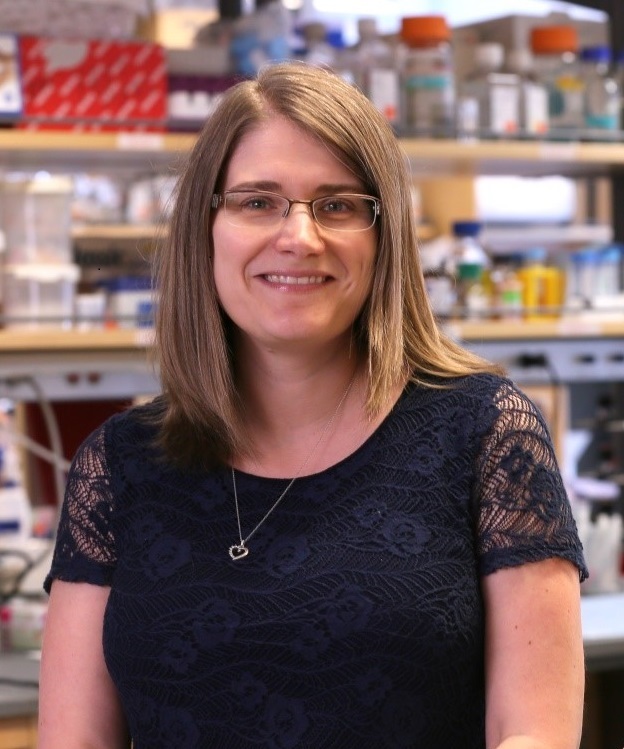 Julie A. Rhoades (Sterling), Ph.D.
Medicine, Division of Clinical Pharmacology
Lab Address
MRB IV
2215B Garland Avenue, Room 1235H
Nashville
37232-0575
Postdoctoral Fellow, 2006-2008,Vanderbilt University
Postdoctoral Fellow, 2003-2006, University of Texas Health Science Center
Ph.D. Molecular and Cellular Biology, 2003, University of Toledo, Medical Branch (formerly Medical College of Ohio)
B.S. Microbiology, 1998, Bowling Green State University
Background
Dr. Sterling graduated from the Medical College of Ohio (now the University of Toledo Medical Branch) in 2003 where she studied the transcriptional regulation of TGF-β Receptor Type II during breast cancer progression in the laboratory of Sunandita (Sheila) Banerji.  During this time she developed an interest in TGF-β signaling regulation of metastasis, with a specific interest in bone metastases.  This interest led her to a post-doctoral fellowship with Dr. Gregory R. Mundy at the University of Texas Health Science Center in San Antonio where she began working on PTHrP regulation in bone metastases.  In 2006 she moved to Vanderbilt with Dr. Mundy where she continued her work in bone metastases and developed her independent research.  Dr. Sterling's laboratory currently focuses on the interactions between tumors and the bone micro-environment.  To do this, the Sterling lab uses multi-discipline approaches that incorporate molecular biology, pre-clinical models, imaging, and engineering. 
Research Information
Some of the most common tumors world-wide metastasize or invade into the bone, where they can induce changes in normal bone homeostasis resulting in increased fracture risk.  The Sterling lab seeks to investigate the signaling pathways that drive tumor growth in bone and bone destruction in order to better understand why tumors establish in bone and to improve therapies for treating tumor-induced bone disease.  We primarily focus on studying interactions between tumors and the bone microenvironment in bone metastatic tumors (breast, prostate, and lung), bony invasive oral cancer, and multiple myeloma.   Our major projects include:
Understanding how the physical microenvironment regulates tumor cell behavior:  The bone microenvironment is a unique physical structure, both in the 3D layout of the trabecular and cortical bone but it is also many orders of magnitude more rigid than other tissues in the body.  Our group uses 3D approaches developed by Scott Guelcher's group that can simulate the 3D structure and rigidity of bone.  These studies have demonstrated that the physical/structural parameters of bone significantly contribute to tumor cell gene expression and behavior.
Developing novel therapeutics for treating TIBD: Our group has previously demonstrated that Gli2 is expressed by bone metastatic (lung, breast, prostate) and invasive (oral cancer) cells that reside in the bone.  Therefore in collaboration with Drs. Craig Duvall and Scott Guelcher we have been investigating microparticle/nanoparticle delivery of inhibitors of Gli2 for their ability to reduce tumor burden and bone destruction.
Tumor bone/bone marrow cell interactions:  The bone marrow is a rich reservoir of many progenitor cells.  We have spent many years investigating how different cell populations that reside in the bone marrow can alter tumor cell expression and behavior in addition to how tumor cells can alter the normal functioning of these cells.


Techniques
The Sterling laboratory routinely uses state-of-the-art molecular biology, cancer biology, bone biology, pre-clinical models, engineering, and imaging techniques to investigate tumor-induced bone diseases.  
3D Cell culture
Migration/invasion assays
Cell differentiation assays
Promotor studies
Real-time PCR
Western blotting
Bone histomorphometry
Immunohistochemistry
Animal models of bone metastasis

Intracardiac
Intratibial
Intravenous
Mammary fat pad
Subcutaneous

Small Animal Imaging

Fluorescence
Micro-CT
Micro-SPECT
Micro-PET
X-ray