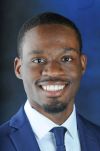 Hometown: Woodbridge, VA
Undergraduate: George Mason University
Medical School: Howard Medical School
Sub-Specialty Interest: Transfusion Medicine
Why did you choose VUMC Pathology: I choose Vandy Path because I wanted to be at a place with strong AP and CP components where I could learn and find out what subspeciality would interest me. I also wanted to be at a welcoming institution in which teamwork was an important aspect of the environment and the faculty were devoted to teaching.
Fun fact about yourself: I am an avid reader of sci-fi/fantasy novels, museum explorer, and film buff.