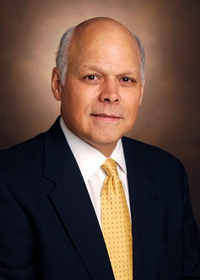 James Netterville, M.D.
Mark C. Smith Professor of Otolaryncology
Department of Otolaryncology
Head & Neck Oncologic Surgery
Bill Wilkerson Center for Otolaryngology and Communication Sciences
Dr. Netterville has been with the Department of Otolaryngology at Vanderbilt University Medical Center since 1986. As Professor of Otolaryngology and Director of the Division of Head and Neck Surgery, he promotes education and research in both voice disorders and head and neck oncologic surgery, his specialty. He is a Course Director of the Sisson Workshop held in Colorado each year, where he has given courses on trapezius myocutaneous flaps, skull base surgery and phonosurgery.
He has received many honors and awards in his career, including the American Academy of Otolaryngology–Head and Neck Surgery's Board of Governors 2009 Practitioner Excellence Award, a 2009 Outstanding Alumnus award from his alma mater, the University of Tennessee College of Medicine, and the 5-star Patient Satisfaction Award for Overall Quality of Doctor Care from Professional Research Consultants in 2010. He has been an honored guest and medical consultant all over the world, including in Australia, Cyprus, Egypt, Mexico, Saudi Arabia, Sweden, Thailand and Turkey, and has led medical missions in Kenya and Nigeria.
He is a member of many professional societies, is on review boards of five professional journals, and is a Past-President of the American Academy of Otolaryngology–Head and Neck Surgery.
Education
M.D., University of Tennessee Center for Health Science