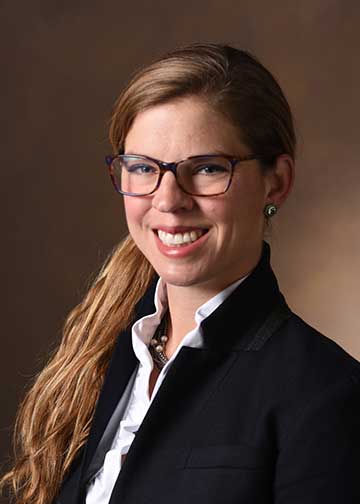 Meredith C. Duke, MD, MBA, FACS
Assistant Professor of Surgery
Division of General Surgery
Dr. Duke is part of our surgical faculty in the Division of General Surgery after holding the position of Assistant Professor and Co-Director of the Minimally Invasive and Bariatric Surgery Fellowship at the University of North Carolina, Chapel Hill, NC.
Dr. Duke's clinical areas of interest include diaphragmatic hernias, GERD/reflux disease, bariatric surgery-obesity, biliary/gallbladder diseases and abdominal wall/hernias. Dr. Duke is certified by the American Board of Surgery.
She received the Improvement Scholars Grant from the UNC Institute for Healthcare Quality Improvement for reducing gastrointestinal surgery readmissions and was a co-investigator on the Eshelman Institute-funded grant, Elucidating the Effect of Bariatric Surgery. 
Dr. Duke received the UNC Health Care and UNC Faculty Physicians Award for Carolina Care Excellence and the 2018 UNC Outstanding Resident Teaching Award. She is a Fellow of UNC Academy of Educators. Dr. Duke is a member of the Association of Women Surgeons, the Society of American Society for Surgery of the Alimentary Tract, the American Society of Metabolic and the American Society of Metabolic and Bariatric Society. She is a board member of the AWS Foundation.
Research
Dr. Duke's research interests and training include examining the drivers of clinical variability in bariatric surgery and preoperatively identify bariatric surgery patients at risk for preventable readmission or complications. Dr. Duke also conducts robotic surgery research.
Education
Masters, Business Administration, East Carolina University, College of Business, Greenville, NC, 2011
Doctor of Medicine, University of Oklahoma, College of Medicine, Oklahoma City, OK, 2008
Bachelor of Science, Biology, University of North Carolina at Chapel Hill, Chapel Hill, NC, 2004
Fellowship
Minimally Invasive Surgery Fellowship, University of North Carolina, Chapel Hill, NC, 2015
Residency
General Surgery Residency Training, East Carolina University, Brody School of Medicine, Greenville, NC, 2014
Meet Dr. Duke