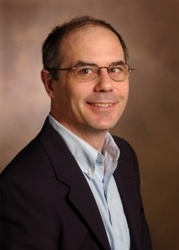 Department of Biomedical Informatics
is Associate Professor of Biomedical Informatics in the School of Medicine at Vanderbilt University and Director of the Compensation Pension Examination Program (CPEP) at the Nashville VA Medical Center.  Dr. Brown is a general internist and medical informatician. Dr. Brown recently assumed national prominence as the director of electronic clinical vocabulary development for the entire VA System coast to coast.  He has over a decade of experience in hospital information systems.  His research is in clinical informatics, with a particular focus on lexical semantic processing that integrates problem statement analysis with medical knowledgebases.
Dr. Brown came to Vanderbilt University from Emory University, where he was an Assistant Professor of Medicine, through an NLM-sponsored Medical Informatics Apprenticeship training grant. He obtained a master's degree in biomedical engineering as part of his training at the Vanderbilt University Medical Center.