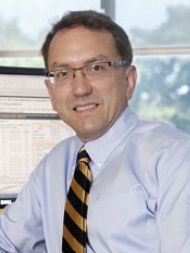 Stephen Deppen, PhD
Department of Thoracic Surgery
Department of Thoracic Surgery
Thoracic Biorepository, Vanderbilt Ingram Cancer Center
and the Early Detection Network LungGroup's National Clinical Validation Center
2525 West End Avenue
Suite 1400
Nashville
Tennessee
37203
Diagnosis, treatment and outcomes of lung cancer; Cancer screening; health services research, diagnostic imaging, comparative effectiveness and implementation science
Dr. Deppen is an Associate Professor in the Department of Thoracic Surgery and a clinical epidemiologist with experience in the evaluation of diagnostic tests for cancer with expertise in health services research, comparative effectiveness and quality improvement.  
He is co-Director of the Vanderbilt Ingram Cancer Center's Thoracic Biorepository and the Early Detection Network LungGroup's National Clinical Validation Center. His research focuses on improving the diagnosis, treatment and outcomes of cancer and evaluating the efficacy of cancer treatments with specific interest in lung cancer.
Dr. Deppen has Masters degrees in Economics and Environmental Science. His work on histoplasmosis and other fungal lung diseases has been cited by the Centers for Disease Control, as they act as confounders in diagnostic imaging of lung cancer. Related research lead to changes in lung cancer diagnostic guidelines. More recent work has focused on early detection of lung cancer using advanced machine learning methods and lung cancer screening with Dr. Kim Sandler and Dr. Bennett Landman.
Publications: 
Accuracy of FDG-PET to Diagnose Lung Cancer in Areas With Infectious Lung Disease: A Meta-analysis 
Using Clinical Risk Models for Lung Nodule Classification  - (in process)