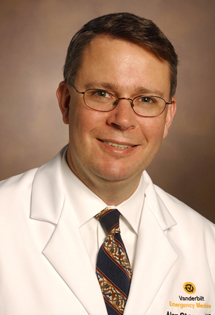 Alan B. Storrow, MD
Associate Professor & Associate Director for Research
Dr. Alan Storrow is Associate Professor of Emergency Medicine and Associate Director for Research at Vanderbilt University Medical Center, Nashville, Tennessee. His current research interests are the early diagnosis, risk stratification, and treatment of acute heart failure (AHF) and acute coronary syndromes (ACS), as well as innovative approaches to emergency care research training.
Dr Storrow completed his Emergency Medicine Residency at the Joint Military Medical Centers in San Antonio, Texas, USA, followed by an American College of Emergency Physicians Teaching Fellowship and a United States Air Force Clinical Investigations Research Fellowship. Dr Storrow has previously served as Associate Professor and Clinical Research Director for the Department of Emergency Medicine at the University of Cincinnati. He has authored over 180 peer reviewed manuscripts, has reviewed for multiple NIH study sections, and is editor of several books on emergency medicine, including The Atlas of Emergency Medicine (1st-4th Editions).
Dr Storrow is currently funded by the NHLBI, NCATS, and PCORI, including the directorship of the Vanderbilt Emergency Care Research K12 Training Program.