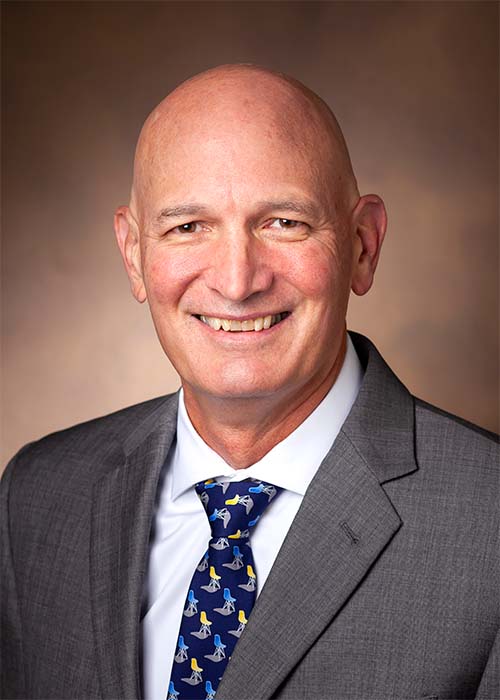 Daniel Clair, M.D.
Department of Vascular Surgery
Daniel G. Clair, M.D. has joined us as the inaugural Chair of the Department of Vascular Surgery in the Section of Surgical Sciences and Professor of Vascular Surgery in the Vanderbilt School of Medicine this fall. A world-renowned leader, innovator, and pioneer in minimally invasive vascular techniques, we are excited he has agreed to lead the new Department of Vascular Surgery.
Dr. Clair comes to Vanderbilt following service as Professor of Surgery at the University of South Carolina School of Medicine and Chair of the Department of Surgery at Palmetto Health-USC Medical Group in Columbia, SC. He received his B.A. in Mathematics at Hamilton College in Clinton, NY and his medical degree from the University of Virginia School of Medicine in Charlottesville, VA where he received Phi Beta Kappa and Alpha Omega Alpha honors. He then completed his internship and surgical residency at Brigham & Women's Hospital (BWH) in Boston, a fellowship in clinical oncology with the American Cancer Society, and a fellowship in vascular surgery at BWH.
Dr. Clair served as Assistant Professor of Surgery with the Uniformed Services University Health Sciences before being recruited as Vice Chair of the Department of Vascular Surgery at the Cleveland Clinic. He then moved to Columbia College of Physicians & Surgeons with his primary practice at NY Presbyterian Hospital. While in New York, he was honored as a Distinguished Fellow by the Society for Vascular Surgery. Dr. Clair returned to the Cleveland Clinic as Vice Chair and Program Director in the Department of Surgery, and was promoted to Chair of the Department of Vascular Surgery and Professor of Surgery at the Cleveland Clinic Lerner College of Medicine of Case Western Reserve University. Over ten years in Ohio, he established the premier program for the treatment of complex aortic diseases in the United States, as well as a leading training program for vascular fellows.
Dr. Clair's research interests focus on clinical trials of new and innovative devices and minimally invasive vascular therapies. He has published extensively in this space, with more than 130 journal publications and reviews, and 10 book chapters. Over the past 20 years, he has been invited as a visiting professor and to speak at regional, national and international scientific meetings, giving over 240 presentations on topics related to aneurysms, angioplasty, balloons and stents, branched endografts, deep vein thrombosis, drug eluting devices, limb salvage, mesenteric ischemia, and venous stenosis. He has served as national PI for several large multi-site clinical trials. Throughout his career, a goal has been to minimize or reduce the impact of procedures on a fragile set of patients.
Dr. Clair is well known as an outstanding leader, serving on national, regional and local committees including the Vascular Surgery Board of the American Board of Surgery and the Society of Vascular Surgery Education Council. He serves on the editorial boards of Vascular Disease Management and the Journal of Vascular Surgery and Endovascular Surgery.