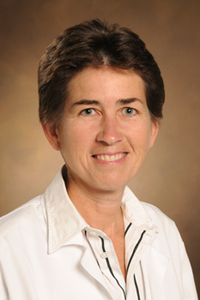 Colleen Brophy, M.D.
Professor of Vascular Surgery
Department of Vascular Surgery
Medical Center North
Vanderbilt University Medical Center
Nashville
Tennessee
37232-2735
Dr. Brophy specializes in complex distal infrainguinal vascular reconstructions for peripheral vascular disease, carotid endarterectomy, and open aneurysm repair.
Dr. Brophy joined the Vanderbilt faculty in 2008. Prior to that she served as Research Professor of Kinesiology at the Center for Metabolic Biology at Arizona State University, Chief of Vascular Surgery at the Carl D. Hayden VA Medical Center in Phoenix, and Clinical Professor of Surgery at the University of Arizona. She has served on the editorial board for Surgery and is Associate Editor for the Journal of Surgical Research. Currently, she chairs the Bioengineering Technology and Surgery study section for the National Institutes of Health (NIH). She is also Chair of the Surgical Research Committee for the American College of Surgeons. She is a Diplomate of the American Board of Surgery.
Postgraduate Training
Dr. Brophy served her internship, residency and chief residency in general surgery at Yale University, New Haven, Connecticut. She also held an instructorship and postdoctoral fellowship there. Then she completed the Vascular Surgery Fellowship at New England Deaconess Hospital, Harvard Surgical Service, Boston, Massachusetts.
Education
Dr. Brophy received her undergraduate education (1979, B.S., Chemistry) and medical education (1983, M.D.) from the University of Utah, Salt Lake City, Utah.
Professional Experience
After completing her vascular fellowship, Dr. Brophy served as associate research scientist and assistant professor in the Department of Surgery at Yale University. She has also served as Professor in the departments of Surgery, Medicine & Cell Biology, and Anatomy at the Medical College of Georgia. From 2002 to 2006, she co-founded and was CEO for the start-up company Arizona Engineered Therapeutics (AzERx) which has since been acquired by Orthologic, Inc. The AxERx technology was invented by Dr. Brophy and is presently in preclinical development for scarless healing, prevention of intimal hyperplasia, and subarachnoid hemorrhage-induced vasospasm.