Participate in our studies!
Charting the Course of Autism in Adulthood (CCAA)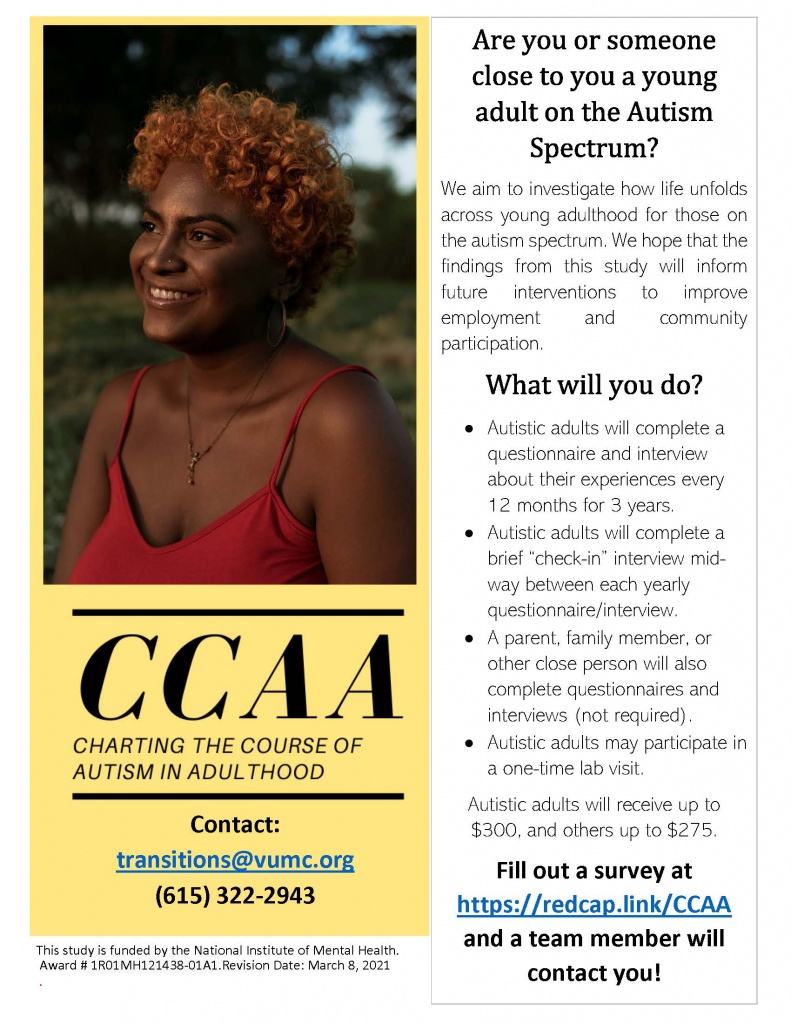 Adults on the Autism Spectrum needed for study on Life Course
Researchers at Vanderbilt are looking for young adults with an Autism Spectrum diagnosis who are interested in participating in a study about life and early adulthood, and the services and supports that promote better outcomes.
You may be a good fit for our study if you:
• Have an Autism spectrum diagnosis
• Are 18 to 35 years old
• Have fluent language
• Are not in high school or receiving services through the high school system (e.g. in a transitions program)
What does the study involve?
This study will require a screening phone call, questionnaires (online or by paper/pencil), and phone/virtual interviews with research staff.
The first part of this study involves completing a questionnaire and an online interview. Both of these can be completed from your home and will last up to 3 hours. After that, we will follow up with you 6 more times over the following 3 years, with half of those being brief check-ins (up to 1 hour) and the other half being longer interviews with questionnaires, lasting 2-3 hours.
If you have a parent, family member, partner, or other person who is close to you who is willing to participate, they can be also be part of this study. This will help us understand the supports that may be available to you (although you can also participate on your own).
Interested participants will be scheduled for a brief phone screening call (10 minutes) to confirm their fit for the study and to answer additional questions
Compensation
You can earn up to $300, and your parent, family member, partner, or close friend can earn up to $275 for full study participation.

How to participate?
To be considered for participation, please call us at 615-322-2943, email us at transitions@vumc.org or submit your contact information here: https://redcap.link/CCAA
Language Development in Fragile X syndrome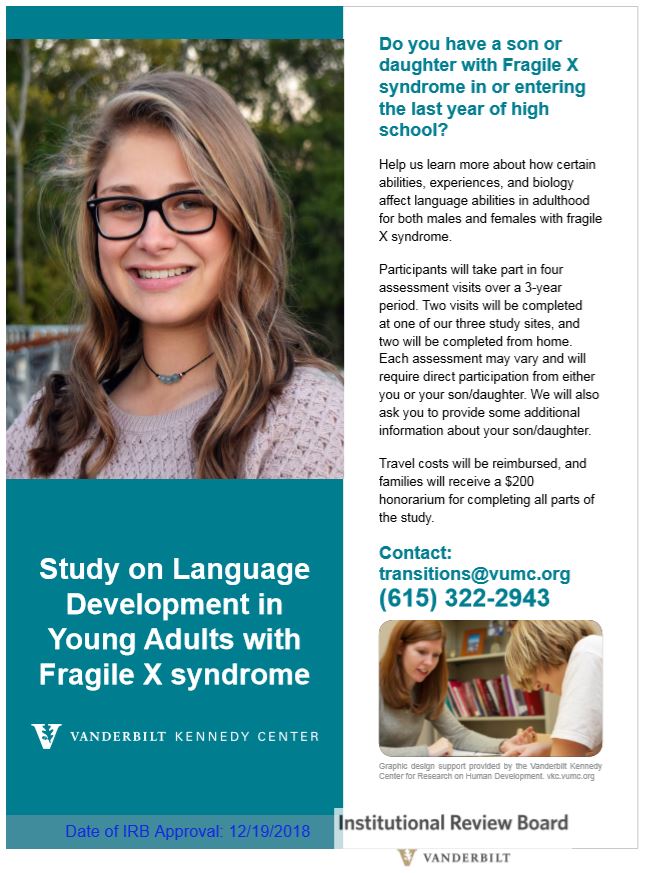 Language Development in Fragile X syndrome (FXS)
We want to have a better understanding of language development in young people that have Fragile X syndrome (FXS) during the time between being a teenager and an adult.
This is a study that collects information about you at 4 different times. First, the teenager with FXS and his/her parent will visit us at the Vanderbilt University Medical Center in Nashville, TN. During this visit, we will do an interview, and ask you to complete questionnaires and a language assessment. We will take a blood sample from the teenage participant. Then, we will send two online surveys to the parent participants at different times. For the last visit, the teenager and parent will come back to Vanderbilt for a psychological testing session.
How long will this take?
The visits will take place over a period of 1-2 days, depending on the family preference and need for breaks. The questionnaires sent to parents in an online survey can be done in 60-90 minutes.
Compensation
Participating families may be compensated up to $200 upon completion.
Travel expenses
If a family's visit requires an overnight stay, the cost of hotel and flights will be covered by the project. Meals and out of-pocket expenses will be reimbursed at the allowable daily rate. Mileage will be reimbursed for families who are driving.
COVID Update
We are offering online participation due to the current pandemic. Please contact us at 615-322-2943 or email at transitions@vumc.org to find out more!