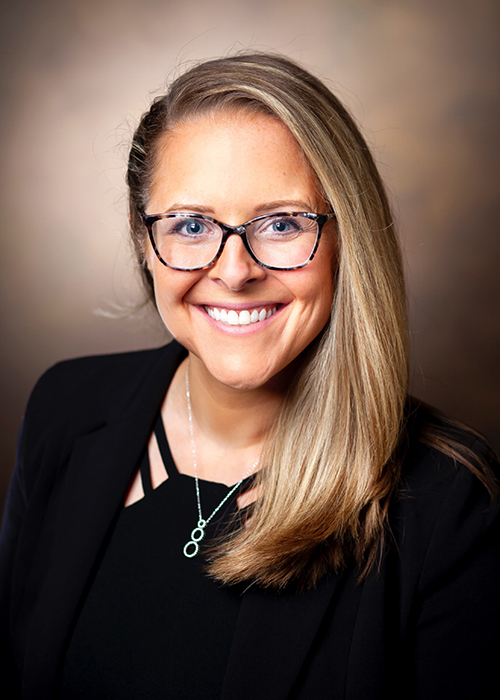 Caitlin Demarest, MD, PhD
Department of Thoracic Surgery
Associate Program Director
Thoracic Surgery Residency Program
Laboratory for Organ Recovery, Regeneration, and Replacement
Clinic Phone
Appointments: (615) 322-0064
Dr. Demarest joined our surgical faculty in the Department of Thoracic Surgery after completing a fellowship in Thoracic Surgery at the University of Michigan Medical Center, Ann Arbor, MI. Her clinical and research work has focused on innovations and developments in artificial lung technology. She will be joining the Laboratory for Organ Recovery, Regeneration and Replacement to continue an ongoing collaboration with Columbia University Medical Center and Carnegie Mellon University alongside her previous PhD advisor, Dr. Bacchetta. The ultimate goal of these efforts is to develop a long-term, portable artificial lung for patients with acute and chronic lung failure. Her patient care interests center on surgery for diseases of the lung, esophagus, rib cage and diaphragm, lung transplantation and robotic surgery.
Research
Dr. Demarest's research has primarily focused on lung failure, lung transplant and artificial lung technology and development. Her PhD in Biomedical Engineering was earned during residency at Carnegie Mellon University, Pittsburgh, PA, the fourth ranked engineering school in the nation. There she developed her dissertation, "Prolonging the Useful Lifetime of Artificial Lungs" and continues her research into innovations, especially clot prevention with devices, increasing possibilities for long-term use and portability for patients with lung failure. Among her recent publications in peer reviewed journals are: The Landmark Series: Multimodal Therapy for Esophageal Cancer, Annals of Surgical Oncology; Preparedness in the Time of COVID:  Implications or Engagement of the Health Care Team with Acute Respiratory Failure, Journal of Thoracic and Cardiovascular Surgery; and A Macrocyclic Peptide FXII Inhibitor Provides Safe Anticoagulation in a Preclinical Thrombosis Model and in Artificial Lungs, Nature Communications.
Memberships, Awards and Honors
Dr. Demarest has certification from the American Board of Surgery, General Surgery, and board eligibility with the American Board of Thoracic Surgery. Dr. Demarest is active in  the Society of Thoracic Surgeons, Women in Thoracic Surgery and in both the Sigma Pi Sigma National Physics Honor Society, and Beta Beta Beta, National Biological Honor Society. She was the recipient of Columbia University's Blakemore Award for Outstanding Surgical Research, a Young Innovator Fellowship from the American Society for Artificial Internal Organs and was selected into the American Association of Thoracic Surgery's Leadership Academy and their Surgical Robotics Fellowship. Dr. Demarest was awarded Cor et Manus Award of Distinction, and Charlotte D. Yudell, MD Memorial Award, for outstanding women graduating medical school. She received an American Heart Association Fellowship Grant of $100,000 to fund her original research, awards from Women in Thoracic Surgery Scholarship, Alpha Omega Alpha Postgraduate Award, and AATS Member for a Day Scholarship.
Education
Dr. Demarest received a Bachelor of Science in Biophysics from the University of Scranton, Scranton, PA, where she graduated Magna Cum Laude, Alpha Epsilon Delta, Beta Beta Beta, and Sigma Pi Sigma. She earned her MD at New York Medical College, New York, NY, where she served as Vice President of the student body, director of a free clinic in East Harlem NY, and was elected into Alpha Omega Alpha Medical Honor Society. She then completed a residency in General Surgery at New York Presbyterian Hospital, Columbia University Medical Center, New York, NY. She attended the University of Michigan Medical Center in Ann Arbor, MI for a fellowship in Thoracic Surgery where she served as chief fellow and has a PhD from Carnegie Mellon University in Biomedical Engineering.
Contact
Department of Thoracic Surgery
Vanderbilt University Medical Center
1313 21st Avenue, South
609 Oxford House 
Nashville, TN 37232
Office: (615) 322-0248
Fax: (615) 936-7003
Patients
Department of Thoracic Surgery
The Vanderbilt Clinic
1301 Medical Center Drive 
Suite B-817
Nashville, TN 37232
Fax: (615) 343-5993
Appointments (615) 322-0064
EMAIL: Caitlin.Demarest@VUMC.org
WEBSITE: Department of Thoracic Surgery
WEBSITE: Vanderbilt Lung Institute 
WEBSITE: Vanderbilt Lung Transplant