Dr. H. William Scott, Jr. came to Nashville in 1952 as Professor and Chairman of the Department of Surgery at the Vanderbilt University School of Medicine.  At the time he was the youngest chairman of surgery in the country.  By the time of his retirement his leadership had spanned 30 years, a feat few have matched.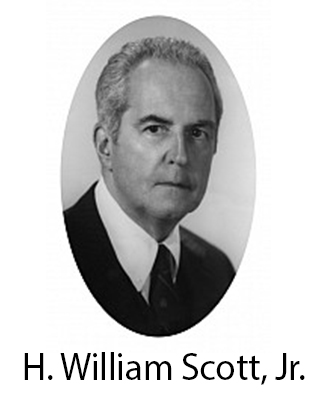 Dr. Scott was born in Graham, North Carolina and attended Darlington School.  In 1933 he matriculated to the University of North Carolina and obtained an AB degree and was elected to Phi Beta Kappa.  He attended Harvard Medical School, graduating in 1941 with Alpha Omega Alpha distinction.  His training included the Peter Bent Brigham Hospital and later, the Boston Children's Hospital.  After his residency at Boston Children's Hospital he was appointed to the coveted Harvey Cushing Fellowship in Neurosurgery.  In 1946 he joined the surgical house staff under the legendary Dr. Alfred Blalock at Johns Hopkins University School of Medicine.  On completion of his surgical residency, Dr. Scott joined the faculty at Johns Hopkins Hospital and rose to the rank of Associate Professor in three years.  Dr. Barney Brooks, Chair of the Vanderbilt Department of Surgery then, became aware of Dr. Scott's rapid ascension in academics at Hopkins.  Within five years of completing his surgical residency, Dr. Scott was chosen to succeed Dr. Brooks as Chairman of Surgery. 
Under Dr. Scott's leadership, the Vanderbilt Department of Surgery became renown throughout the world for its clinical excellence, education and research.  He had a major impact on the development of graduate surgical education in this country and has made many significant contributions to surgical science in gastrointestinal surgery, pheochromocytoma and bariatric surgery.  In recognition for his many outstanding contributions he was elected as President of many of the most distinguished societies in surgery, including the Society of University Surgeons, the Nashville Surgical Society, the Society of Clinical Surgeons, the Halsted Society, the Society for Surgery of the Alimentary Tract, the Southern Surgical Association, the American Surgical Association and the American College of Surgeons.   Dr. Scott was also honored by Johns Hopkins University with election to the Society of Scholars.  
The H. William Scott, Jr. Scott Society was formed in 1972 by his former residents to honor Dr. Scott as well as recognize those who have trained at Vanderbilt and embrace Dr. Scott's tradition of excellence.