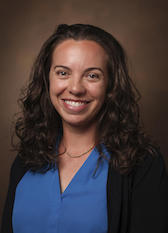 Lindsey E. Zamora, MD, MPH
Obstetrics and Gynecology, Section for Global Women's Health
Topics: Community Health, Maternal and Child Health, Neglected Tropical Diseases, Obstetrics and Gynecology, Public Health
Countries: Guyana, Kenya
Dr. Lindsey Zamora has had an interest in global health and cultural studies since prior to entering the field of medicine.  She completed her undergraduate degree in Anthropology at the University of Florida and during this time studied abroad in Tanzania and Brazil.  She then completed medical school at the University of Florida and went on to residency training at the University of Florida and Baylor College of Medicine.  During medical school, she led an ongoing mission trip to the Dominican Republic providing care for rural areas of the country. In residency she had the opportunity to rotate in Zambia working with midwives leading safe delivery training workshops.  
After residency, Dr. Zamora completed a fellowship in Global Women's Health through University Hospitals/Case Medical Center in partnership with University of Guyana and Georgetown Public Hospital Corporation. During this time she helped establish the first ObGyn training program in the country. The program was developed with the goals of training local specialists and leaders in ObGyn in the country of Guyana to reduce the country's maternal mortality rate.  Dr. Zamora lived in Guyana for two years during her fellowship and helped to graduate the country's first specialists in ObGyn. After her fellowship's completion, she then continued her work from the United States as an Assistant Residency Program Director for the program.  During this time, Dr. Zamora earned her Master of Public Health from the London School of Hygiene and Tropical Medicine. 
Since joining faculty at Vanderbilt, Dr. Zamora has become a member of the ObGyn's Section for Global Women's Health and is the lead for their residency's distinction pathway in Global and Community Health.  She also serves as a faculty liaison between the ObGyn department and Siloam Health, Nashville's community health center serving the local refugee population.  Dr. Zamora's specific global health interests are maternal mortality reduction, global health education, capacity building in low and middle income countries, and care for immigrant and refugee populations. 
Education
M.D., University of Florida
M.P.H., London School of Tropical Medicine and Hygiene