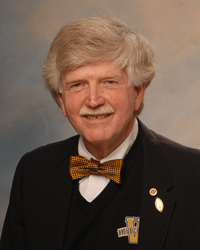 John Tarpley, MD, FWACS, FACS
Professor Emeritus of Surgery & Anesthesiology
Department of Surgery, Vanderbilt University School of Medicine
Professor of Surgery and Head of Department
University of Botswana, Gaborone
Topics: Education and Training (Capacity Building), Medical Education, Surgery
Countries: Botswana, Kenya, Nigeria, Rwanda
Dr. Tarpley completed his undergraduate education at Vanderbilt University and earned his medical degree from Vanderbilt University School of Medicine before training in surgery at Johns Hopkins Hospital. He spent two years at the National Cancer Institute, Surgery Branch during residency. After completing his general surgery residency, Dr. Tarpley committed himself to surgical education for an underserved population, and spent 15 years in southwest Nigeria directing house-officer training at the Baptist Medical Centre, Ogbomoso. He continues to visit Nigeria to teach and cultivate long-time relationships and remains an active member of the West African College of Surgeons. 
In 1993, he returned to Nashville to practice surgery at the VA hospital and joined the Vanderbilt faculty. He has taught medical school electives in Spirituality in Medicine, History of Medicine, and Topics in International Medicine. He has received teaching awards locally and nationally and has been designated a Master Clinical Teacher at Vanderbilt. The Society for Black Academic Surgeons elected him an honorary member in 2005 in recognition of his service for underrepresented minorities. 
Dr. Tarpley retired from Vanderbilt in 2016. Since then he has worked in Kenya, Rwanda and Botswana.
Learn more about career and post-retirement plans.
Education
M.D., Vanderbilt University School of Medicine